Lisburn Historical Society
Volume 10 • 2005 - 2006
THE BRONTËS AND ARTHUR BELL NICHOLLS
BETTY O'SULLIVAN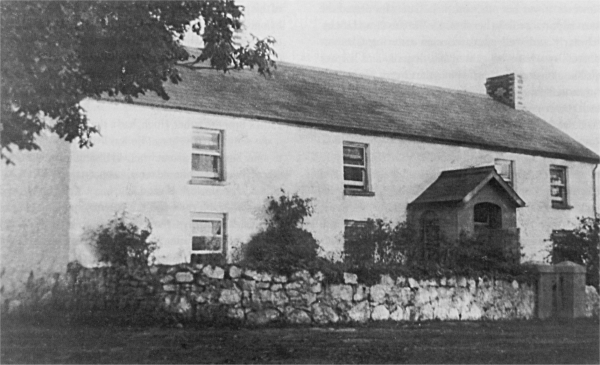 Tully Farm. Killead, Co. Antrim. c.1945. Reproduced courtesy of Mrs Siberry
Charlotte, Emily and Anne Brontë are famous the world over for their writing. Many books have been written over the years portraying their short and tragic lives, and the struggles of their ambitious and clever father Patrick, who rose from humble origins to enter Cambridge University and on to a life dedicated to the Established Church. Only one of his children married. In 1854 Charlotte, his surviving daughter, married Arthur Bell Nicholls, then curate of Haworth, and there lies another story.
Arthur Bell Nicholls was, according to the inscription on his headstone in Banagher churchyard, born in 1818, though other sources give the date as 1819. His birth place was Tully Farm, Killead, in the townland of Tully, Co. Antrim. Now it is a comfortable two storied house with a slated roof and all modern conveniences, looking out across the fields to Lough Neagh and the Sperrin mountains beyond. It is still a working farm, hut very different from the days when he was a child, running around in a very crowded family. I was told the history of the house by Mrs Siberry, its present owner. Her grandfather bought it in 1892 from George Nicholls. That year Arthur was still alive and living in Hill House, Banagher. His brother George had died in 1870 so the George who sold the farm was most probably a nephew.
Killead was reckoned to have been a relatively prosperous place, with neat well kept houses, lime washed, and some thatched. It would appear however that by 1892, although the land was in good heart, the house had become neglected and was in a state of disrepair. At that time it was one and a half storeys and thatched, with a stable at one end and a byre at the other. Above the stable was a large room heated by the warmth rising from the animals beneath. The wooden floor of this room had traces of corn husks and chaff showing that at one time it was used for storing grain. There had been a large flagged kitchen, and at the rear of the house was found a circular horse walk for churning butter. One servant boy was kept.
When it was sold by George Nicholls there were ninety six acres; all good land. That is not to say that William Nicholls, Arthur's father had the same amount of land. He is described as a 'small farmer' so others in the family may have added to the farm after his death.
William remains a shadowy figure. We know that his family came over from Scotland around 1620 and were of Presbyterian stock. Like Patrick Brontë. his name appears spelt in a variety of ways. He settled in Killead, and married Margaret Bell of nearby Glenavy. She also was of Scottish descent, but of the Established Church. In later years her son Arthur, who was very proud of his Bell ancestry drew up a family tree.1 It begins with Sir Michael Bell, Colonel of Foot and Governor of Athlone who came to Ireland with King William in 1690 and was created Knight Baronet at the Battle of the Boyne. The document makes fascinating reading. Sir Michael had two sons and fourteen daughters. One son, Thomas had two sons and twelve daughters. A grandson had nineteen sons and many daughters. All these marriages must have been a drain on the family fortune. Amongst their progeny appear titled people, bishops, surgeons, archdeacons, canons, deans, army officers and a state physician. Certainly they all seemed to favour large families.
William of Tully was no exception. Before his wife died at the early age of forty four Margaret bore at least eleven children. Six are buried with their parents in the family plot in Killead Presbyterian Churchyard. In 1968 a letter came to light showing that after Margaret's death William married again. The author of the letter states 'My mother was the youngest of the second family.2 Unfortunately, there is no further information to hand.
The Bells of Glenavy were a prominent family in the Established Church .The name Bell appears with great regularity in the parish lists, although they may not all be members of the same branch. The lists available start in 1710 and continue until 1837. Many of them were sidesmen or churchwardens while three appear as surveyors of roads. Another gave money to build a schoolhouse at Aghadaragh, and there is mention of one being an overseer of deserted children.3


Margaret Bell had a sister Eliza and a brother John. However, it was her other brother, Alan, who played the most important role in her short life. He was an ambitious, scholarly and well educated man entering Glasgow University where he gained his degree, and further qualifications enabled him to enter the Church. He became curate in Ballintoy (Connor) from 1815-17, moving on to Inch (Down) from 1817-23; Chaplain to Down Gaol and Diocesan Schoolmaster of Down; finally, headmaster of the Royal School Banagher (1822-36).4
He met a young girl called Harriet Lucinda Adamson and they married in Dublin on 5th April 18205 Harriet was eighteen at the time of her marriage. Born in York Street Dublin, she was of an old distinguished family with Danish origins. She lived in a large house where her parents entertained lavishly, inviting interesting and sociably acceptable people to their home. She and her father were very attached to each other. He took her to England for an `English education', but after a very short time, only a matter of weeks, he brought her home again, as he could not bear to be parted from her. However, while there she met old Queen Charlotte, wife of George III, who asked to see the little 'Irish girl'. She also watched the illuminations to celebrate Waterloo, so her time there wasn't altogether wasted.6
Soon after they were married Dr. Alan Bell took his bride to live in Banagher where he took up his headmastership of the Royal School. Their new home was called Cuba House, with the school just beside it. Cuba House, or Cuba Court as it was sometimes referred to, now sadly demolished, was a Palladian mansion built by Sir Edward Lovett Pearce in 1730 for the Governor of Cuba, George Frazer. It has been described by Maurice Craig as 'perhaps the most splendidly masculine house in the whole country.7
Approached by an avenue of lime trees it stood in extensive grounds. Under the headmastership of Dr Bell the school was very successful. He also bought and sold land, becoming a very wealthy and successful man. The marriage proved to be a very happy one, and nine children were born to them.
When Arthur was seven and his brother Alan nine, they had a visit from their aunt and uncle who had travelled up to Tully from Banagher. They offered to take the two boys back with them, bring them up as their own, educate them and give them a good start in life. It was a great opportunity for them, hut a hard decision for their parents to make. However, the Nicholls' house was bursting at the seams with children, and the only outlook for the boys would be the grinding life of farming. Their parents let them go. It must have been a bittersweet parting, for as far as is known they never saw their parents again, although the families kept in touch.
The two boys were extremely lucky to become members of this particular family, where they were lovingly accepted by one and all, enjoying a happy and carefree life with all the advantages of money and position. Back in Tully their two older brothers, William John and George continued farming for the rest of their lives. They both died relatively young, William John at 34, and George at 52 years of age.
Patrick Brontë's father, Hugh, had a similar experience but it was not to his advantage. He was living among a happy, if rather large family, somewhere in Ulster though the exact whereabouts of his home remains uncertain. He, too, was visited by an Uncle Walsh and Aunt Mary. Walsh ingratiated himself with the child and the parents, spinning tales of the fine house he lived in and the ponies he kept. He offered to take Hugh and bring him up as his own, giving him a fine education and fitting him out as a gentleman. This seems to have been a common practice at the time. It benefited both parties, the gaining of a child on one hand, and on the other, alleviating the family of another mouth to feed. Money sometimes changed hands. So young Hugh parted from his family never to see them again.8
There was no fine house awaiting him, no education or good living, no ponies, and no comfort. His new home proved to be a hovel, his 'kind' uncle a domineering bully, and as long as he remained there he was abused and ill-treated to such an extent that eventually he ran away. Making his way north he arrived in Dundalk where he found work in the lime kilns of Mount Pleasant. Used to hard labour on his uncle's farm he worked hard and prospered, and that Christmas met the love of his life, Eleanor (Alice) McClory of Ballynaskeagh.
It is a romantic tale — an elopement and marriage under the very noses of her family, and against their wishes. Setting up home in a tiny thatched cabin, their first child, Patrick, was born. Hugh and Eleanor were to be the grandparents of the Brontë children. They reared ten children to adulthood and most of them lived to old age. William and Margaret Nicholls had even more children , but we do not know if any children were born from his second marriage, nor the name of his second wife.
In Cuba House the boys were well and happy. They both proved to be good scholars and wanted for nothing. By now their aunt and uncle may have adopted them, but they were certainly treated as part of the family. Two years after their arrival in Banagher, their mother Margaret died, `12 April 1830.' at the early age of forty four.9 Because of the distance they were unable to attend the funeral. In Tully, William was still left with a large family to rear and this is may be why he married again.
Patrick Brontë, too, lost his wife Maria when she was only thirty nine, leaving him with six small children to rear. He did his best to marry again, but the ladies he proposed to would have none of him, so his sister-in-law took pity on him and came to live with him as his housekeeper. She left her home and friends in Penzance with the greatest reluctance. The two eldest girls, Maria and Elizabeth, died very young. The remaining four, Branwell, the only son, and three girls who became the famous writers were all dead before they reached the age of forty in the case of Charlotte, and thirty for Emily, Ann and Branwell. Patrick outlived them all.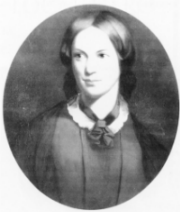 Portrait of Charlotte Bronte
Arthur and Alan both entered Trinity College Dublin where they spent some years before they gained their degrees. They had every advantage possible and with an uncle who was wealthy and influential, had no difficulty in obtaining a place there. Patrick, on the other hand, was at a disadvantage from the start. He began with little or no education, but he was a remarkable man with a burning ambition for knowledge. Once he had discovered books there was no stopping hint Both Andrew Harshaw, a 'stickit minister' and Rev. Thomas Tighe, the local rector from a prosperous Co. Wicklow family, recognised his potential and took a keen interest in him, guiding him in his studies. He was able to enter St. John's College Cambridge where he applied himself with great enthusiasm to learning as much as he could in the shortest possible time. He was a hard worker and gained enough scholarships to keep him while at St. John's, although he lived a very frugal life .His time at St. John's was short, 1802-06. Arthur spent 183644 at Trinity. So through very different routes the two men received their degrees and both entered the Church. Patrick's first Ministry was at Wethersfield in Essex, 1806 while Arthur arrived in Haworth nearly forty years later in 1845 where he met Patrick and Charlotte for the first time.


The troubled courtship of Arthur Nicholls and Charlotte Brontë was fraught with difficulties from the start, mostly posed by Patrick who told her she would be marrying beneath her if she took on Arthur as a husband. It was ironic that he should speak so ill of another of his own countrymen when he came from very humble origins himself and had struggled to get where he was. Charlotte herself did not seem to hold a very high opinion of the Irish. Perhaps when her father had told them stories of Ireland when they were children, he may have painted them as a lowly peasant race. In old age, had he forgotten the kindness and teaching he had freely received from Andrew Harshaw and Rev. Thomas Tighe? In truth Patrick was reluctant to lose his daughter to anyone, for then he would be all alone. He set his face against Arthur Nicholls who for nearly a decade was to be his right hand man in Haworth relieving him of many arduous duties. The two men became estranged and Patrick treated Arthur in a cruel and contemptuous manner. It was some time before he relented and sanctioned his approval of the courtship.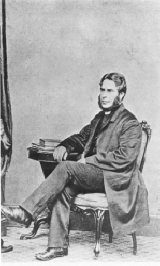 Arthur Bell Nicholls, photographed on his honeymoon
in Ireland. 1854.
Charlotte and Arthur were at last married early one morning in June 1854. Their only dilemma was Patrick's refusal to give his daughter away. Margaret Wooler, Charlotte's old friend, stepped in and did the honours. Arthur took his bride home to Ireland for their honeymoon, and a great surprise awaited her when she met his delightful family and saw Cuba House for the first time.10 She must suddenly have realised that she had married a real 'gentleman' in every sense of the word. On all sides she heard great reports of him. One of the servants told her she had got 'one of the best gentlemen in the country'. In her letters home she wrote, 'I was very much pleased with all I saw, but I was also greatly surprised to find so much English order and repose in the family habits and arrangements. I had heard a great deal about Irish negligence.' Describing Mrs. Bell, Arthur's aunt... 'with her English manners — like an English or Scottish matron, quiet, kind and well bred', Charlotte began to revise her former opinion of her husband and his family.
Returning home at the beginning of August, Charlotte's life was now changed completely and she blossomed in her new role as Arthur's wife. Patrick too was content. He had not lost his (laughter after all, but he had gained a son-in-law. Harmony was restored. But it was to be a brief spell of happiness. Nine months later Charlotte was dead and the two men were left alone in the Parsonage. Arthur, for ever loyal to Charlotte, remained with his father-in-law until the old nun died in 1861 at the age of 84. He had expected to be offered the living at Haworth, but he was not popular with the Trustees and the post went elsewhere.
He packed up his belongings and all his mementos of Charlotte and returned to Ireland taking Plato, Patrick's last dog, with him. In Banagher the Royal School was now being run by Dr. Bell's second son, James, who had taken it over on the death of his father. He was living in Cuba House, so his mother, Arthur's aunt, had gone to live in a small house at the top of the hill in the little town, with her daughter Mary Anna. After Cuba House, Hill House must have felt minute, hut it was pretty, opposite the church and stood in twenty acres of land. It is still there though much changed over the years.
Arthur made his way to Hill House where he joined his aunt and cousin, Mary Anna. He became a small farmer, giving up the Church altogether. Martha Brown, one of the faithful Brontë servants came over from time to time and took over the housekeeping. She had nursed Charlotte and was one of Arthur's last links with the old days. When he was forty three and Mary Anna thirty two they decided to get married. She had always loved her cousin and he was fond of her. They married in 1864 and the ceremony was performed by Rev. Joseph Bell, Mary Anna's brother, and Arthur's cousin. It seemed to be more of a marriage of convenience, a friendship than anything else. There were no children of the marriage. Arthur died in 1906 at the age of eighty eight and Mary Ann in 1915 aged eighty five. They are both buried across the road from Hill House in the Churchyard of St. Paul's. Arthur's aunt, Mary Anna's mother, lived to the great age of 101, dying in 1902, a wonderful old lady. Arthur never recovered from Charlotte's death. He loved her to the end of his long life. He and Patrick Brontë were very different personalities, hut it is curious to see how much they had in common, and of course Charlotte will always link them together.
Note: photographs of Charlotte Brontë and Arthur Bell Nicholls
are reproduced courtesy of the Brontë Society.
| | |
| --- | --- |
| 1 | Bell Family Tree (Brontë Society). |
| 2 | Letter from Harriet McGreavy, Belfast. |
| 3 . | Glenavy Parish Church records |
| 4 | Canon J.B. Leslie, Succession lists of the Clergy of Diocese of Dromore (1933), p. 134. |
| 5 . | Ibid |
| 6 . | Frances Bell, A Hundred Years of Life |
| 7 | Maurice Craig, Classic Irish Houses of the Middle Size, (London, 1976). |
| 8 | William Wright, The Brontes in Ireland, (London, 1894), p.33. |
| 9 | Headstone in Killead Presbyterian Churchyard. |
| 10 | Letter from C.B.to Miss Wooler 1854. |