Charley Family Houses In Dunmurry
by ROBBY CHARLEY
1. FINAGHY HOUSE
| | |
| --- | --- |
| | |
| Finaghy House | Woodbourne |
For over 200 hundred years members of the Charley Family lived in the Dunmurry area, their first recorded house being Finaghy House when Ballyfinaghy was purchased from a Richard Woods in 1727 by Ralph Charley (1674 - 1756), a successful merchant of Belfast. The name means Fin = fair, aghy = field and in the days when the family lived there the house was surrounded by fields. Five generations of the family dwelt at Finaghy until shortly after John Stouppe Charley (1825 - 1878) died when, in 1885, his widow Mrs. Mary Stewart Charley (nee Foster) sold the house and its contents.
In 1727 it is recorded that Finaghy House was an imposing mansion in a large park with extensive outhouses and stables. It had six reception rooms and 12 bedrooms with appropriate ancillaries, a remarkable feature being a revolving fireplace between the drawing room and the dining room. The Charley family armorial bearings were built into the outside gables and on a landing, half way up the wide oak bannistered stairs, the Coat of Arms are still engraved on the landing window. At the time of the house sale in 1885 one of the conditions of sale was that if the house was demolished the Coat of Arms was to be restored to the Charley family.
The Charley's were pioneers in the linen industry and it is said that looms were set up in this house in the 18th century and the new process of bleaching linen cloth with chlorine was perhaps discovered and first used here. Every 12th July for about 150 years until 1972, the Belfast Orangemen used to walk to the field at Finaghy. This field was owned by the Charley's of Finaghy House who granted it in perpetuity for this day to the Orange Order, the "rent" being that the lesson should always be read from the "Charley Bible" during the religious part of the ceremony.
Finaghy House is now known as Faith House, a comfortable home for senior citizens in the middle of a large housing estate.
2. WOODBOURNE
Woodbourne came into the Charley family when it was given to Mrs. Mary Anne Charley (1797 - 1866) on her marriage in 1819 to Matthew Charley (1788 - 1846) by her father Walter Roberts of Collin House. He had rebuilt the old farmhouse at the spot known as Crooke's Ford. At this time Finaghy House, the senior family house, was occupied by Matthew's elder brother John (1784 - 1844) and his sister Elizabeth (1800 - 1854). Matthew and Mary brought up their six children at Woodbourne before taking over Finaghy House when John Died John and Matthew Charley were both original shareholders of the Northern Bank, John being Chairman of the Bank Committee from 1842 - 1845.
When Matthew and Mary moved to Finaghy House in 1844 Woodbourne was taken over by their son John Stouppe Charley (1825 - 1878). In 1851 he married Mary Stewart Foster (1832 - 1915) a daughter of Francis Foster JP of Roshin Lodge Co. Donegal. John Stouppe succeeded his uncle John on the committee of the Northern Bank in 1845 and he was also a JP and DL for counties Antrim & Donegal and High Sheriff of Co. Donegal in 1875. John Stouppe Charley took over Finaghy House on his mothers death in 1866.
Woodbourne was a happy home. It was so named because of the wood, or glen, on one side and a bum, the Lady's River, on the other. A lawn filled with shrubs and trees surrounded the house. There was also a sunny walled garden, an orchard full of apple trees, large yards, stables, byres for cows, barns for grain, a pigeon loft, a greenhouse, a pheasantry and a carpenters shop. The house had a large sunlit entrance hall with folding doors across it to screen off the stairs and back passages.
On the folding screen was the Charley Coat of Arms with the motto "Justus Esto et non Metue" above it. The stairs wound in a spiral curve to the top. The first flight led to a lobby the same size as the hall and was lit by a large window looking into a square walled-in gravelled yard with strips of flower beds on either side and a beautiful beech tree in the middle with a seat all round it. There were two recesses in the wall ascending to the lobby, in one of them stood an old mahogany clock, in the other a life sized bronze Grecian lady holding a lamp. Bedrooms led off the lobby and on the top floor was a long low play room, running over a third of the house.
Matthew Charley of Woodbourne had three sons and three daughters. The sons were:
1) John Stouppe (1825 - 1878) - see above and below,
2) Walter Matthew (1827 - 1870) of Newtownstewart who married twice and had two daughters,
3) Colonel Sir William Charley DCL, QC, DL, MP (1833 - 1904). He was MP for Salford 1868 - 1880, and Judge and Common Sergeant of London 1878 1892, a strong supporter of Disraeli, Honorary Colonel of the 3rd Battalion The London Volunteers and President of the Pickwick Bicycle Club. With his brother-in-law he founded the well known charity Royal United Kingdom Benevolent Association. He had two daughters.
John Stouppe Charley of Woodbourne had four sons and three daughters. Two sons died as infants, his second son Major John Francis William born 1857 was mortally wounded on 15th December 1899 commanding the 1st Battalion The Royal Inniskilling Fusiliers at the Battle of Colenso in the South African War. His third son, Walter Roberts Matthew Charley JP (1859 - 1930) settled with his wife Mary, daughter of John Simpson MPP, at Pine Lake, Alberta, Canada. John Stouppe had no grandchildren.
Many years later Matthew Charley 's great-grand daughter Mrs Esmee Hamilton, who was married to a Provincial Commissioner in Kenya, named their large retirement home near Nairobi, Woodbourne.
The Parish of Upper Falls was constituted in 1859 and the Church of St John the Baptist was built on land belonging to and adjacent to Woodbourne, given by John Stouppe Charley. The new Church was consecrated in 1861. From 1878 on (John Stouppes death) various family connections lived in Woodbourne until soon after World War 2 when it became a popular hotel. There was a local story that John Stouppe s ghost used to walk down the staircase a midnight on Saturdays. In the mid 1970s, after suffering bomb damage, it was converted into a fortified RUC station.


| | |
| --- | --- |
| | |
| Seymour Hill | Phoenix Lodge |
3) SEYMOUR HILL
The Charley family occupied Seymour Hill for 124 years until 1946. Three generations of the family lived there - firstly William (1790 - 1838) who bought and rebuilt the house. When he died his son, also William (1826 - 1890), succeeded him. When this William died in 1890 his son Edward (1859 - 1932) took over the house and the linen business and on his death Edward's brother Captain Arthur Charley (1870 - 1944) was the next owner.
In 1820 William Charley (1790 - 1838), the third son of John Charley (1744 - 1812) of Finaghy House, purchased and remodelled the bleach green at Dunmurry and also the nearby Mossvale works. Two years later he bought Seymour Hill House from Mr. Robert Allen Johnston. William's father John had served his time in the linen trade under Richard Wolfenden (1723 - 1775) of Harmony Hill, Lambeg who was head of one of the earliest linen trade families in Ulster. In 1783 John Charley married Richard Wolfenden's daughter Anne Jane (1758 - 1818) and it seems that the Wolfenden linen business passed to John Charley whose sons John and William eventually transferred it to Seymour Hill. In 1824 William entered into partnership with his eldest brother John (1784 - 1844) to found the linen firm of I & W Charley & Co. By 1837 it was one of the finest bleach greens in the country turning out between 20,000 and 25,000 pieces every year.
Seymour Hill stands on a hill with a wide view of the Lagan Valley. The Charley estate on both sides of the River Lagan in counties Antrim and Down amounted m over 400 acres. They were tenants of the Marquess of Hereford who owned all the land from Dunmurry to the southern shore of Lough Neagh. Seymour Hill was named after the Marquess of Hereford's surname which was Seymour. In the 1880's Irish Land Acts, the Charley family gained full possession of the land.
The large square Georgian house had 4 floors. The basement below ground level had extensive kitchens, scullery, larder, pantries, dairy rooms, wine cellars and a large servants' hall. On the ground floor the entrance hall had suits of armour standing in front of painted mural walls and there was a grandfather clock with the name William Charley in place of the numerals. To the left of the front door was the dinning room which contained the large family portraits. Behind the dinning room was the cloakroom, gun room and butler's pantry. To the right was the drawing room and, behind it, a comfortable morning room and library.
On the first floor were the main bedrooms, dressing rooms and bathroom. The bedrooms contained four poster beds and double doors from the rooms to the landing which cut out most of the noise from the landing passages. On the top floor were the day and night nurseries for the younger members of the family and also the staff sleeping quarters.
Water was pumped up to the house from a well in the centre of a large paddock in front of the house. The intermittent chuff chuff of the automatic ram could often be heard. There was a large wheel at the back door which had to be turned from time to time to pump water up to the roof tank. There was stabling for 12 horses in the yard.
In a small field behind the house in the 1930s there lived a pony called Ginger. Ginger, clad in large soft shoes, used to draw the grass cutting mower across the extensive lawns and tennis courts. He also used to pull a smart pony trap. In the summer tennis parties were held on the four grass courts and the one hard court.
A large walled garden and grounds were maintained by a head gardener and five or six under gardeners. Old box edgings and stones from the Giants Causeway gave it an unusual character. This walled garden has now been renovated and is managed as the Seymour Hill Garden project by a unit under the Eastern Board (Down and Lisburn Department). Outside the walled garden was the Yew Tree Walk which led from the house down to the front drive entrance. Between the house and walled garden were lawns with landscaped trees and shrubs. Near the rock garden was the dogs' cemetery, all with their individual headstones. There were front and back avenues, the front drive entering via gates with a gate lodge. In spring this avenue had daffodils all along the border from gate to the main house.


Every day the head of the family would walk across the paddock field to the factory of J & W Charley & Co. which was hidden from the house by a line of trees. Here he supervised the finishing and production of the forest Ulster Linen. It was of a particularly high quality and for many years the normal present from Northern Ireland to any member of the Royal Family when they married were linen sheets from J & W Charley, specially embroidered with the relevant royal cypher.
Within the grounds of Seymour Hill was a lake and a waterfall leading into a fish pond. The Derriaghy River flowed under the main Belfast - Lisburn road into the lake and then was divided into two mill races to work the factory water wheels. The top stream was known locally as "Little Harry" because baby Harold Charley's (1875 1956) pram once ran away down the drive and ended up upside down in the river. He was none the worst for the experience.
The main Derriaghy River continued down through the glen until it reached the river Lagan a short distance away near Mossvale. The glen had well maintained paths winding through luxuriant trees, creepers and bamboo jungle areas. In the glen there was a bridge held up by chains from the first cable layer ship to cross the Atlantic Ocean. There was also a shell grotto in the glen and for the sporting members of the family plenty of fishing for trout and shots to be taken at woodcock, pigeons and rabbit.
During World War 2 the laundry premises in the upper yard were occupied by up to 100 women and children evacuated from the centre of Belfast during the air mid blitzes of 1941 and 1942.
Just after World War 2 the the Northern Ireland Housing Trust was formed and, by the first vesting order issued in Northern Ireland, the family was compelled to sell Seymour Hill House and all the grounds on the county Antrim side of the river Lagan. This was the first enterprise undertaken by the Trust, now the NI Housing Executive. In no time the house was surrounded by a well laid out but vast housing estate. The upper and lower yards were made into comfortable well designed mews flats which won a Civic Trust Award in 1960.
In 1986 the house was vandalised and badly damaged by firebombs and it was feared it might have to be pulled down but the Housing Executive transferred the listed building and part of the grounds to Belfast Improved Housing Association Ltd which has now successfully restored it into six one person flats with a warden's flat on the top floor and shared launderette facilities in the old basement.

4) PHOENIX LODGE
In 1837 the Ulster Railway Company opened its first line from Belfast to Lisburn. To encourage use of the railway, free passes were offered to people if they built new homes near the stations and halts. It is thought that this may have influenced William Charley (1790 - 1838) to build Phoenix Lodge for his daughter Anne Jane, in 1837 shortly before he died. In 1842 Anne Jane Charley married William Stevenson of Belfast and they lived at Phoenix Lodge until his death in 1855. Mrs. Stevenson then moved to live with her widowed mother at Huntley. In 1882 the name of the house was changed to The Lodge after the Phoenix Park murders in Dublin when Lord Frederick Cavendish and Thomas Burke, Chief Secretary & Under Secretary of Ireland, were assassinated. Captain Arthur Charley, JP (1870 - 1944), lived there with his wife Clare after the Great War until his brother Edward Charley, JP, DL (1859 1932) died and he moved into Seymour Hill.
In the 1930s and at the beginning of World War Two, The Lodge was rented by Lord and Lady Amptill. In 1940 Major General Sir James and Lady Cooke-Collis lived there. He was the first Ulster Agent in London but died in 1941 from the results of a German air raid on his club in London. Next it was occupied by Major General Majendie, the GOC Northern Ireland District and finally in 1947 it was bought by Mrs. Harland, the sister of Sir Milne Barber of Conway. In spite of being listed this lovely house was vested in the early 1960s after Mrs. Harland died and the grounds taken over for the expansion of a nearby factory. The large weeping ash tree that dominated the front lawn is all that now remains of The Lodge.
| | |
| --- | --- |
| | |
| Conway | Huntley |
5) CONWAY
In 1852 William Charley, who had succeeded to the Seymour Hill estate, gave some land to his younger brother Edward (1827 - 1868), to build a house for his first wife Mary (nee Caldecott) (1834 - 1854) from Essex. Edward named it Conway after the local landowner the Marquess of Hertford, one of whose titles was Lord Conway. His first wife Mary died in 1854 and two yeas later he married Jane (nee Richardson) (1829 - 1906) from Lambeg. When Edward died in 1868 she lived in Conway with her four children and one stepdaughter until 1877. The house was then occupied until his death by Bishop Reeves and then, in 1892, it was sold by the executors of Edwards' brother William Charley to John D. Barbour of Hilden, the father of Sir Mime Barbour, later Deputy Prime Minister of Northern Ireland. Sir Milne lived in Conway for many years until he died in 1951. It is now a four star hotel. At one time there was the Charley crest over the front door but a bomb destroyed it some years ago.


6) HUNTLEY
Huntley, originally known as Huntley Lodge, was built about 1830 by William Hunter (1777 - 1856) of Dunmurry House on land leased by the Stewarts of Ballydrain from the Donegal Estates. His son William (1806 - 1890) lived in Huntley for a time and brought up his family them until, in the mid 1850's he moved his family to the Isle of Man because of the increase of Income Tax to about 2d in the f. The house was then left by his father William (1777 - 1856) to his widowed sister Mrs Isabella Charley (1800 -1882).
Isabella's husband, William Charley of Seymour Hill, had died in 1838 and she had lived in Seymour Hill until her eldest son William was married in 1856. Isabella then moved to Huntley where she was joined by her late husband's sisters Mary (1820 86), Anne Jane Stevenson (1822 - 1904) (whose husband had died in 1855) and Emily (1837 - 1917). Every Sunday for many years the Charleys of Seymour Hill would get into the family coach and go to visit their grandmother and great aunts for afternoon tea.
The ladies at Huntley were talented artists, did embroidery and kept beautiful scrapbooks. They supported many charities and gave generously to local churches, schools and church halls. They founded the Charley Memorial School at Drumbeg in 1892 in memory of their brother William Charley (1826 - 90) of Seymour Hill and also the Stevenson Memorial School in Dunmurry. They built the church hall in Dunmurry with the condition that a service must be held there every Sunday afternoon. However it used to upset them to see the curate from Drumbeg riding down Dunmurry Lane past Huntley on a bicycle. They did not approve of cycling on Sundays.
Huntley remained in possession of the Charley family until 1932 when Edward Charley JP, DL (1859 - 1932) of Seymour Hill died and it was sold to Mr. George Bryson who had been a tenant there since just after the World War 1. The Bryson family still live there.

7) MOSSVALE HOUSE
Mossvale House was a nice old house down by the Lagan Canal which originally belonged to the owners of the local mill. It came into the possession of the Charley family in 1820 when the mill and bleach works were purchased by William Charley (1790 - 1838) from Robert Johnston. It was encircled by trees and had stabling for 10 horses and in spring time was surrounded by daffodils.
Captain Arthur Charley (1870 - 1944) lived here with his wife for several years after the Great War before moving into The Lodge in Dunmurry.
In 1936 it was rented to a flamboyant individual. He heavily insured the house and the horses and then, a few days later, bought boxes of matches and a can of paraffin He soaked piles of rags around the house and stables, set them on fire and succeeded in burning the house to the ground.
Luckily some passers-by saw the fire and managed to rescue the frightened horses. The land and ruins remained in the family for another 50 years until it was sold in the 1980s. A new house has been built on the site by the purchaser.
| | |
| --- | --- |
| | |
| Warren | Willowdale |
8) WARREN HOUSE
Warren House, originally known as Warren View, was a small house on the Charley Estate and, until 1922, was occupied by different members of the Johnston family. In 1923 Edward Charley of Seymour Hill gave it to his brother Colonel Harold Charley CBE, DL (1875 - 1956) on his marriage to Phyllis Hunter MBE (1893 - 1988). They added to the house and enlarged it over several years.
Warren House looked across the Derriaghy River to an ancient mound and rabbit warren. The rabbits were of all possible colours - black, white, piebald, orange - the results of tame rabbits escaping and joining their wild relatives. The house had a lovely garden and across the river on the rabbit hill were a number of bee hives Harold Charley being President of the Ulster Beekeepers Association. His son and daughter with their friends used to raft down the river under the railway bridge into the lake at Seymour Hill. There were two grass tennis courts opposite the house on Thornhill Road and a field which, in the 1930s, contained Peter, the donkey, and Daisy, the pony. Also bordering Thornhill Road was the Show Field so named because William Charley and Dr Duffield, two of the founders of the Royal Agricultural Show in that field over 100 years previously.
In 1951 the house was sold by the Charley's and bought by the winner of a large football pool prize. It was then sold again and it is understood that one later owner converted the large drawing room into a Plymouth Brethren Chapel. In 1970, when the DeLorean factory was built in the nearby fields, Warren House was fitted out for John DeLorean to live in. A special roadway was made direct from the factory to the house and it was rumoured, untruly, that gold taps were put in the bathrooms. There were several break-ins because of this. It is now occupied by new owners.
9) WILLOWDALE
Willowdale House lies beyond the hamlet of Ballybog, the main driveway running parallel to the River Lagan, just before the Ballybog Road reaches the Lagan Canal Towpath.
The House has been part of the Charley Estate since the early 1820's. From 1939 to 1950 it was lived in by Mr. & Mrs. George Graham. It is a good example of a Georgian house, with thick walls and windows recessed by about 18". There is a very thick mahogany front door with a fan light above. In front of the door there is a wide sweep of gravel - room to turn carriages or cars. Large flowering shrubs were opposite the house.
On entering the house there is a wide hall with a passage to the rear with the drawing room and dinning room to left and right. The drawing room had an original Adam fireplace with a large grate suitable for burning large sized logs. The front windows have inside shutters. Behind the two large front rooms are a breakfast room, a mistress's pantry, cloakroom and a large kitchen with scullery and pantry off it.
Outside the side doors is a covered spring well from which water is pumped into the house. The wide staircase leads to a large landing with four bedrooms, a dressing room and a bathroom.
The house was at one time surrounded by lawns and flowerbeds and an orchard with apple, pear and plum trees. The garden and lawns are encircled on three sides by the River Lagan.



B) The Children Of William Charley (1826 -1890) Of Seymour Hill.
| | |
| --- | --- |
| 1. | William b 1857, emigrated to Australia in 1880s and died unmarried in 1904. |
| 2. | Mary Isabella b & d in 1858. |
| 3. | Edward Johnson (Eddie) b 1859 d unmarried 1932, JP, DL. High Sheriff of County Antrim 1913. Chairmen of I&W Charley & Co Linen Manufacturers and Chairman of the Northern Banking Company 1914 - 32. Member of Unionist Council. Devoted to the orders of Freemasonry and Orangeism holding high rank in both. On the death of his parents in 1890 rook over the responsibility of bringing up his younger brothers and sisters. |
| 4. | Ellen Frances Isabella (Fanny) b 1861 d 1942 m 1895 Charles Howard Duffin (who died 1921). Two sons and one daughter. Frances Duffin b 1895 Capt RIR d on active service in France 1918. William 6 1900 Murdered by IRA in Belfast 1922. Eileen 6 1896 m Major Lyall Dempster and is still living in 1993 aged 97. |
| 5. | John Stewart George (Stewart) b 1863 died of Scarlet Fever aged 22 in 1886. |
| 6. | Thomas Henry Fitzwilliam (Tom) b 1866, Lieut 4 RIR (Royal North Down Militia) died in 1885 after catching pneumonia while on the rifle range at Lambeg with the Militia. |
| 7. | Elizabeth Mary Florence (Lizzie) b 1868. After her brother-in-law Charles Duffin died in 1921 went to live with her sister. She and her sister were keen tennis players and won numerous competitions. Acted as hostess for her brother Edward at Seymour Hill in Edwardian times. Died unmarried in 1946. |
| 8. | Arthur Frederick (Arthur) b 1870. Captain 11 RIR (South Antrim Volunteers) in World War 1. Took part in the Battle of the Somme. Married Clare Fenn (b 1880 d 1961) during World War 1. After the death of his older brother Edward in 1932 he moved into Seymour Hill and ran the family linen firm until his accidental death in 1944 when supervising the felling of a tree in the glen. Hunted two days a week with the County Down Staghounds and during World War 2 commanded the Dunmurry platoon of the Ulster Home Guard and, even over 70 in age, took part in all their field exercises and route marches. JP Co Antrim. |
| 9. | Emily Constance Jane (Emily) 6 1872 married in 1903 James Stewart Reade who died in 1934. One son Dennis b & d in 1905 end three daughters 1) Clare b 1906 d 1917 2) Rosamund (Rosie) b 1908 d 1990. Rosie married Sir RMT McConnell (1902 - 1987) and had three sons and one daughter and secondly married C O Haselden (d 1992). 3) Helen b 1910 married Herbert Holmes and had one son and two daughters. |
| 10. | Harold Richard (Harold) b 1875 d 1956. Married Phyllis Hunter, MBE in 1923 (b 1823 d 1988). Commissioned into the Royal Irish Rifles in 1895. Served with 1 RJR in Natal and India before World War 1. As a Major commanding a company of 2 RIR in France on 26 August 1914 was seriously wounded and captured near Le Cateau. Officer in Charge of Technical Instruction for British Interned in Switzerland 1917 - 18. Commissioner British Red Cross in Switzerland 1918 and Manager of British Red Cross in Berlin 1919. Commanding Officer on 1 RUR 1919 - 23. County Commandant of USC Co Antrim 1924 - 39 and City Commandant Belfast USC 1924 - 52. Hon Col Antrim Coast Reg RA (TA) 1938. In 1940 raised and commanded Belfast Local Defense Volunteers, later Ulster Home Guard. Originator of British Legion Car Park Attendants scheme which started in Belfast and was later taken up in the rest of the UK. President NI Branch Old Contemptibles. President Ulster Bee Keepers Association. Member of Irish Rainfall Association. Keen on photography and astronomy. Good horseman, polo player and sporting shot. Chairman RUR association 25 years 1921 - 46. CBE (1920). DL County Antrim. Lived at Warren House Dunmurry. One son Robin b 1924. One daughter June b 1926 d 1953. Harold died in 1956 aged 81 and his widow Mrs. Phyllis Charley died in 1988 aged 94. Robin Elizabeth b 1962 (m John Reynolds 1990, son Charley b 1992) 3) Jane b 1968. |
| 11. | Wilhelmina Maude Isabel (Maude) b 1877 married Edward Baily of California, USA in 1905. She died in 1918 on active service as a V AD in Italy. Her husband died in 1914 and they had no children. |

C) THE CHARLEY FAMILY COAT OF ARMS
CHARLEY FAMILY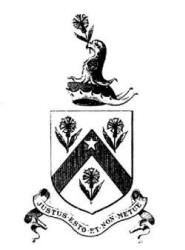 In the Middle Ages individuals displayed devices on their shields or surcoats to identify each other. The early duties of heralds as tournament officials was to recognise individuals; later they were appointed by the king to grant or confirm Arms. About the year 1350, in the time of King Edward 111, it is known that the Chorley family of Chorley in Lancashire was entitled to Arms and some time later these were recorded as Argent a chevron gules between three blue bottles slipped proper.
These same arms are held by the Charley family today over 600 years later. In 1860 the Collage of Arms confirmed that this Coat of Arms was granted on usage to the descendants of John Charley (1744 - 1812) of Finaghy and on 16 July 1964 they issued an official exemplification of the Arms to Major WRH Charley of the Royal Ulster Rifles as explained below:
ARMS
"Argent, on a chevron gales, between three corn blue bottles, slipped proper, a mullet or."
(a silver shield on which is a red chevron stripe containing a five pointed golden star. In the three spaces on the shield in their natural colours are three blue cornflowers with stalks.)
A chevron was often added to an original Coat of Arms by a younger son. The golden star represents a military spur. "Slipped proper" means a small branch or stalk in its natural colours. A blue bottle is the heraldic name for a blue cornflower.
CREST
"On a chapeau gates turned up ermine, a falcon's head erased argent, charged with a cinquefoil of the first, in the beak a corn blue bottle as in the Arms. "
(A silver torn off falcon's head holding in its beak a cornflower and on its chest a red five petalled rose, on top of a red cap with a folded up black spotted fur edging.)
Caps of maintenance, sometimes called caps of dignity, are of crimson velvet, turned up with ermine fur and have two swallow tails. They used to be worn by princes and great nobles and later became a support for crests.
A falcon's head erased argent means the head is in silver torn off with a rough edge showing. Charged with a cinquefoil of the first means that the five petalled rose is borne on the centre of the crest and that the rose is gules or red (the first refers to the first mentioned colour of the chapeau gules). Perhaps the red rose represents the family's connection with the county of Lancashire.
MOTTO
"Justus esto et non metue" - "Be just and fear not"
At first mottos were regarded as cries or passwords and then later as punning references to the bearer's name or Coat of Arms. Later they became part of a person's complete Coat of Arms.
The Coat of Arms certainly originates back to the Chorley family in the 14th century, but it is thought that the Motto was only first assumed and granted in Victorian times, perhaps as an allusion to the then bearer's high rank in the Masonic order.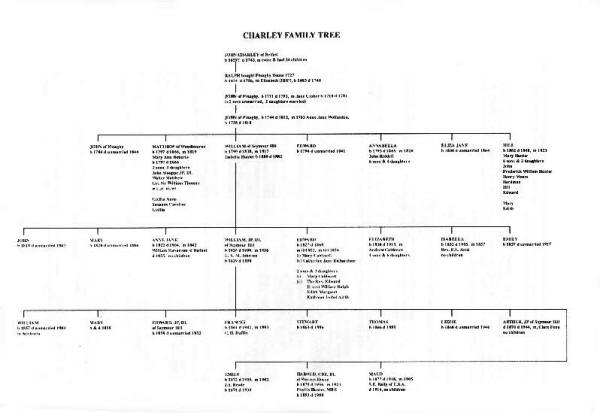 Charley Family Tree
D) REFERENCES
| | |
| --- | --- |
| The Romance of the Charley Family | Irene Charley 1970 |
| Burke's Irish Family Records | 1976 |
| The Chorley's of Chorley Hall | John Wilson 1907 |
| Rosie Reade | R Shean McConnell 1992 |
| The Lagan Valley 1800- 1850 | ERR Green 1949 |
| A History of Ulster | Jonathan Bardon 1992 |
| Fibers & Fabrics Journal | 1942 |
| On Flax | William Charley 1862 |
| Memories of her Childhood | Letitia Maria Charley 1841 |
| College of Arms | |
| Lisburn Museum | Photograph of Conway |
| Mrs. Vera Morrison | Photograph of The Lodge |
| Proctor Print 1832 | reprinted by the Linenhall Library, 1983 |