Lisburn Historical Society, Volume 3 pt.2
THE LIFE AND WORK OF SIR RICHARD WALLACE Bart. MP
(Synopsis of an Address given by J. F. Burns, Belfast to the members of the Parent-Teachers' Association of Wallace, High School, Lisburn, on Tuesday, 29th April, 1980, in connection with the centenary of the foundation of the School.)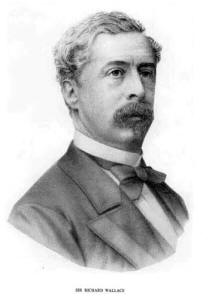 RICHARD WALLACE was born Richard Jackson in London on 21st June, 1818. But who was Richard Wallace (nee Jackson)? Despite extensive researches by a number of historians no one yet can say with certainty. What evidence there is of his parents, particularly of his father, is circumstantial and a great deal of it flimsy at that. The circumstantial evidence in regard to his mother is stronger though not conclusive. It is a fair guess who his mother might have been; his father could well have been anybody. Wallace himself in his latter years is alleged to have declared that he did not know who hit father was.
We know because Wallace himself testified to that effect in a court of law that he was taken from London to Paris in 1825 though where he had been living and with whom between 1818 and 1825 is not known. There is a clue that whoever they were they were not paupers because in his evidence he stated he was accompanied by his nurse to Paris. Some months after his arrival in the French capital he was taken from the house where he was living to live with the Countess of Yarmouth, later the Marchioness of Hertford (wife of Francis Charles Seymour-Conway, the Third Marquess; she is known to history as Mie-Mie and she was the illegitimate daughter of the last Duke of Queensbury and Marchesa Fagnani, a former dancer) in her home in the Rue Taitbout in Paris. He remained with her until she died in 1856. There was between them a very deep bond of love and affection.
The clue to the identity of his mother is found in the will of the fourth Marquess of Hertford, made in 1837, where he refers to "Richard Jackson (son of Agnes) now of the age of twenty or thereabouts and residing at No. 1 Rue Taitbout, Paris". This has led to intensive research into the antecedents of Agnes Jackson though in some ways she remains a shadowy figure, over whom a certain mystery still hangs.
What is known about Agnes is interesting. She was the daughter of Sir Thomas Dunlop Wallace, of the family of Wallace of Craigie Castle, Ayrshire. His ancestor was Sir William Wallace (1272-1305), the famous Scottish patriot who perished on the scaffold in London because he led the Scots in rebellion against the English King.
She was born in 1789 and in 1808 married Samuel Bickley, a person of some standing as he was a member of Lloyds of London. She bore him two sons, but after the birth of the second in 1810 she became estranged from her husband and left the matrimonial home. History does not reveal the reason for this nor does it throw any fight on why she adopted the name of Jackson. As she was still married to Bickley she could not have married a Jackson though it is possible she lived for a time with a person of that name. She possessed a wayward, sensual streak for next we find her in Brighton where she became a hanger-on of the 10th Hussars regiment. It was in this regiment that the Fourth Marquess, then Lord Beauchamp, after his Oxford University days, had bought himself a commission. He was living it up as a gay, young buck, ready for any adventure. The theory is - and it is no more than that because there is no proof- that at 18 he met Agnes, 12 years his senior, made her his mistress and as a result of their liasion a son was born. He was given the names Richard Jackson - Richard for his father and Jackson for his mother.
Seven years later Agnes appears to have fired of her erotic life as a kind of Ishmaelite and her husband being willing she returned to Bickley. In 1830 and 1832 she bore him two further sons. II is a fair inference, and nothing more, that while Bickley was prepared to have his wife home again he was not willing to accept her bastard son. Thus she took him to Paris and left him with him whom she claimed was the boy's father - Lord Beauchamp, who, it was said, did not really want him but it was lady Yarmouth (Mie-Mie) who insisted on him becoming part of the Seymour household in Paris.
In passing, descendants of one of the Bickley sons are today living in Australia.
That is broadly the accepted theory of Wallace's birth and parentage, but it contains certain flaws. The principal one has only recently been unearthed, a letter written by the Fifth Marquess (who was cousin thrice removed to the Fourth Marquess) in which he says that the Fourth Marquees had given him "the most solemn assurance that he was not Mr. Wallace's father." Unfortunately he gives no further details of this remarkable statement which only intensifies the mystery surrounding Wallace's birth.
But if the Fourth Marquees was not the father then who was? Here we enter the realm of speculation but one candidate is the Third Marquess who begat more than one illegitimate child and who acquired across the years a very unsavoury reputation. It was he who was that in contact with the Wallaces. He was incarcerated in Verdun during the Napoleonic wars with Sir Thomas Dunlop Wallace. They were two of a sort and despite their internment enjoyed themselves to the full with wine, women and song, and indeed went so far as to organise race meetings, the first of which was held on 5th May, 1804, and run under Newmarket rules ! To say that the inhabitants of Verdun were astonished at the unusual sight for them of horse racing is to put it mildly! The friendship begun in this way endured after Sir Thomas returned home in 1815 and it is not beyond the bounds of possibility that Yarmouth seduced his friend's daughter, particularly if the lady was attracted to this fine specimen of English manhood, for the Third Marquees was a very impressive figure.

For a long time it was believed that Wallace was the uterine brother of the Fourth Marquees through a common mother, Mie-Mie. Indeed this is printed in the life of Wallace in the Dictionary of National Biography. But that was blown sky-high by Walter T. Stannus, the Hertfords' Lisburn agent. In a conversation about the family a remark was made to the effect that Wallace was the brother of the Fourth Marquees. Stannus interrupted to say "Not the brother but the son". From that time it has been accepted that the Fourth Marquees was his father.
Sir Richard Wallace must have been pretty sure that Agnes Jackson (nee Wallace) was his mother because on 21st April, 1842, he took a rather unusual step. In the Anglican Church in the Rue d'Aguesseau in Paris he had himself re-baptised. By this mean he rejected the name "Jackson" and took that of Wallace. The certificate of baptism shows that the name of his parents was Wallace - nothing more. It is worth noting, too, that at that time he possessed a mistress and was father of a seven-month son. Had this been revealed it is questionable whether the cleric would have performed the sacrament! A further item of interesting evidence is that when Wallace was made a baronet in 1871 he chose for his coat of arms a design almost similar to that of the Wallaces of Craigie. He could not have done this without that family's permission so that it would seem they, too, accepted that Agnes Wallace was the mother. That coat of arms is today that of the Wallace High School.
So much for the parenthood of Sir Richard Wallace - still something of a mystery.
Thanks to the love and care which Mie-Mie lavished on Jackson, he led a happy, contented life as a youth. He was educated privately and as he emerged into manhood he found everything provided for his needs by the woman he called "aunt" - which she certainly was not. She always referred to him as her "loving nephew"! The Fourth Marquees, by now Lord Hertford by the death of his father in 1842, also began taking an interest in the latest member of the Seymour household in Paris, though there ace some who subscribe to the view that he was not too pleased at having him in his mother's home.
One day there was a terrible row over the debts that Mie-Mie had ran up by wild speculation on the Pans Bourse and which were revealed in their enormity only when the mother appealed to the son for financial help to satisfy her creditors. He was furious when he learned of their extent for this offended against his parsimonious nature. He also discovered that Wallace had been her agent in the undertaking and not only that but he himself had run up a formidable list of debts through equally foolish speculation. In his wrath at having to find a large sum of money to clear the family name, he ordered Wallace from the house and told him never, to return. It seemed the end of the road for him. The quarrel, however, was patched up, no doubt through the meditation of the Mie-Mie for Lord Hertford could refuse her nothing. His Lordship went even further; he bought the young man a house of his own, No. 29 Boulevard des Italiens, Pans.
Twice Lord Hertford paid Wallace's debts, once in 1854 when the amount was 383,643 francs and in 1856 when they were 271,744, a total in two years of 655,387 or around £100,000 - not a bad bit of sowing wild oats.

His Lordship soon realised that he must find something useful to occupy this young man who had been thoroughly spoiled by Mie-Mie. Wallace had already expressed a wish to join the Royal Navy but Lord Hertford would not permit it. Without his backing (here was no point in pursuing the idea. So he stayed in Paris and his Lordship appointed him his Secretary and subsequently his agent for the purchase of works of art, an occupation which he found congenial and satisfying. The salary fixed was £500 and later it was raised to £1,000 a year - a very high salary for those days.
Thus it was that there were few important sales of works of art held in Europe at which Wallace was not present on behalf of the Fourth Marquees. Quickly, too, Wallace grasped the details of evaluating these treasures and estimating their price. Seldom did he make a mistake. Indeed he was to earn the reputation of being a fine connoisseur -almost as good as his master. He also acquired a deep knowledge and fondness for armour and acquired a number of collections of the battle gear of the knights of old. The unique collection which is housed in Hertford House, London, today is testimony to his skill and knowledge.
Because he was something of a Bohemian and therefore careless, Wallace still kept running into debt. He was again gambling on the Stock Exchange and once more the losses were mounting. Pressed by his creditors he had little option but to appeal to his employer to rescue him yet again. This time there were no fireworks or outbreaks of temper by his Lordship; just a firm, decisive "No". Lord Hertford decided the time had come to teach this young spendthrift a salutary lesson. Wallace had from time to time been buying pictures and objets d'art with which to found his own collection. He had quite a sizable number of items, some fairly valuable:, and he was rather proud of it all. Lord Hertford curtly told him to sell the lot and clear his debts. Wallace was appalled at such a sacrilege but he had no option. So it was put up for sale and his humiliation was complete when Lord Hertford purchased his five best pictures. However, his Lordship knew something of which Wallace was ignorant - the pictures would in the fullness of time return to him when he became heir to the Fourth Marquess's estate. The lesson was painfully learnt; never again did Wallace play the Bourse.
It would be wrong to assume that Wallace, in his youth, was something approaching a paragon of all the virtues. Far from it. Like all the other smart, young rakes in what was the gayest capital in Europe, Wallace, too, sowed his wild oats in other directions as well as running into debt. For instance, he had his mistresses, to whom incidentally he was always most generous, changing from one to the other as the fancy caught him. In the background was his permanent paramour. She was Julie Castelnau, whom he had met when he went into a Paris shop to buy perfume (probably for his latest mistress) and the feeling between them was immediate and mutual. As a result of the liaison a son, Edmund Richard, was born in 1840. Despite temptation which drew him ever and anon to other women, Wallace was to remain loyal to his Julie until death parted them in 1890, and following the death of Lord Hereford in 1870 he was able to marry her. Such loyalty carrot be overshadowed by the fact that this proved the greatest mistake of his life for she had no contribution to make to the kind of life he wanted to lead and she was more a burden to him than a help.
But life in those early days was bright and interesting. God was in His heaven and everything was right for Richard Wallace. Even the death of Mie-Mie in 1856 was only a temporary cloud on his luxurious way of life. There was, however, just one other cloud on the horizon. The health of Lord Hertford was never very robust and it began to deteriorate after his mother's death and then there loomed ominously the year 1870. France, looking suspiciously across the Rhine at the growing might of the young, united Germany, became bellicose and belligerent. This upstart nation needed teaching a lesson to bring it back to earth. France had the means and the will to do it. Bismarck, the German Chancellor, thirsting for glory on an impressive scale, was not slow to turn this warlike feeling to Germany's advantage; the Franco-Prussian war was about to begin.
The cacophony of the heavy German guns as they were moved towards Paris was the funeral march from this world of Richard Seymour-Conway, 4th Marquees of Hertford and last of his line. For nine years he had been suffering from an acute form of kidney cancer. Severe, relentless pain and anguish had been his constant companions, yet he bore it all with the stoic resignation of his class so often synonymous with personal courage. In his last few months he seldom complained, had few wants, accepted with equanimity his fate, comforted to some degree by his belief that he would escape the complete ruin of his class which would follow the German victory which with true insight he had seen crystal clear when others were talking of a quick victory and a glorious march to Berlin. He had repeatedly warned his friend, Emperor Napoleon III, of the folly of engaging the Germans, but to no avail.
The Marquees was too ill to be moved even to Paris from his home, Bagatelle, in the Bois de Boulogne, once a residence of Marie Antoinette. The idea of taking him to London, which had been mooted to escape the further consequence of the war, was equally impossible of fulfilment. The end came at Bagatelle on 24th August, 1870. At the exact moment of death Wallace was out of the room, but Madame Oger, one of his permanent mistresses and mother of his daughter, Seymourina, was there at the bedside of her dying lover and protector. She had been his mistress for over 30 years.
Now the drama began, and what a drama! With an estate of something over three million pounds, not to mention a collection of paintings on which a real value could not be put, there was great interest in the family in the will which would dispose of all this largesse. Expectations were high in a number of quarters; but low in the entourage with which Lord Hertford had surrounded himself - people like Wallace and Madame Oger. The Principals were beginning to tether for the funeral and for the will. General Francis-Seymour, descendant of the First Marquees and cousin thrice removed of the dead man, was the new Marquees, one from the branch of the family which the Fourth Marquees hated and despised because of the treatment they had meted out to his beloved mother and whom he thought he had cleverly outwitted in the matter of his fortune. When the Fifth Marquess reached Paris he paid a courtesy call at the British Embassy, (here to be informed that there appeared to be no will. Therefore, the Fourth Marquees had died intestate which made General Francis as heir to the Marquisate possessor of all the deceased's great wealth. Naturally this did nothing to dampen his spirits and when Wallace greeted him at Bagatelle with the terse remark, "Everything is yours", his expectations were high indeed.
It has to be explained that by two agreements, the second one dated 1838, the Irish estates had by arrangement between father and son, been separated from the title and their disposition left to the holder of the title. Following this the Fourth Marquees, or Lord Yarmouth as he was then, made a will under which his brother, Lord Henry Seymour (son of a French count and so illegitimate; note he was christened "Seymour" not "Seymour-Conway" the family name) was made heir to the Hertford estate in Antrim. In the event of him having no legitimate issue or dying fast, then the estate was to go to the diplomat, Sir George Hamilton Seymour, and not to the Fifth Marquees. Sir Hamilton was an even more distant cousin than General Francis but he seems to have been the one Seymour who maintained friendly relations with his distant cousin and was allowed to visit him when he was in Paris. He was born in 1797, the eldest son of the seventh son of the first Earl of Hertford. He entered the diplomatic service and was British minister at the Belgian court and later to Russia.

In 1848 when the Fourth Marquees and the family fled from Paris because of the revolution of that year which ended for ever the reign of French kings, they took refuge for a time in London and then in Boulogne. Lord Hereford in 1850 was for ,a time in London without the family and he decided on a change in his will. Without the aid of lawyers and indeed without advice from anyone he cancelled the legacies to his brother (he did not die will 1858) and to Sir Hamilton Seymour, and in their place he put this codicil which because of the way it was worded was to cause considerable trouble and cost a great deal of money in the years immediately after his death. Here is the important part:
"I hereby revoke the bequest contained in the will of 1838 of the residue of all my real and personal estate to my brother, Lord Henry Seymour, and to reward as much as I can Richard Wallace for all his care and attention to my dear mother, and likewise for his devotedness to me during a long and painful illness I had in Paris in 1840, and on all other occasions. I give such residue to the said Richard Wallace, now living at the Hotel des Bains, Boulogne-sur-Mere, and whose domicle previous to the revolution of February, 1842, was in my mother's house, Rue Tailbout, 3 (no No. I ) Paris, absolutely."
If only instead of trying so minutely to pinpoint Richard Wallace so that there would be no mistake about his identity, he had given a little thought to Sir Hamilton Seymour and in so many words had stated he revoked the legacy to him, then a great deal of trouble would have been avoided. As it was, it was a generally accepted view that the Fourth Marquees intended Sir Hamilton to enjoy some of his fortune and this weighed considerably with the judges later.
Provision in another codicil was made for Mrs. Idle and Madame Oger.
The family fury was boundless when the will and codicils were read by Lord Hertford's solicitor, Mr. Frederick Capron, at Bagatelle after the funeral. They were to get exactly nothing beyond that which was entailed to the title. All was to go to a man of doubtful birth and obviously without one drop of Seymour blood in his veins. The Fifth Marquees would only inherit the estate at Ragley in Warwickshire and that at Sudbourne in Suffolk but without any of the fortune which he would need to maintain them. The less important Seymours were disinherited and Sir Hamilton was excised from the will.
The treatment by the deceased peer of his two mistresses equally astonished everyone. To the mother of his daughter, Madam Oger, be left £2,000 per annum for the remainder of her life but Mrs. Idle was given £12,000 a year without any explanation about the enormous discrepancy between the legacies for there two women who had devoted their lives to him.
No one was more surprised at the turn of events than Wallace - though the Seymours never accepted the fact. They believed he knew all along. From being a secretary at £1,000 a year he was now a millionaire twice or three times over and the owner of the finest art collection in Europe. Getting down to basic facts, it is now generally accepted that it was because of the Collection, which was Lord Hertford's great pride, that he chose Wallace as his heir. He felt that he was the only person who shared his love for it and would ensure it was kept together. Lord Hertford assessed the situation through believing that if it went to anyone else, and particularly to a Seymour, it would be broken up and sold. This was the view accepted by Wallace, and he determined that he would be a true custodian of the Collection in accordance with the desires of the late peer. Further, he knew he owed much to his Lordship and he wanted to do what lay in his power to uphold his reputation and reveal something of the greatness of the man. This he could do in part through the Collection.
The new Marquess accepted the will. He could see no way in which he could successfully challenge it, but not Sir Hamilton. He took a copy of the codicil which purported to disinherit him with him to London where he consulted his lawyers. Reading it today we as lay people can be in little doubt what exactly Lord Hertford's intentions were. It seems pretty obvious that he wanted Wallace to have everything except that which was entailed to the title (which incidentally for some unexplained reason but possibility to satisfy some legal requirement included six townlands to the west of the estate centred round Blaris). The lawyers advised that there was a doubt as to what Lord Hertford really intended and they advised Sir Hamilton to take possession of the Lisburn estate, which he did informing the tenants that they must pay their rents to him and to no one else. By this time Wallace was locked up in beseiged Paris but through Mr. Capron, his agent, he was able to convey to the tenants the warning that he was their rightful landlord and their rents must be paid to him. In this dilemma facing the people what was more natural than they should withhold their rents from either party until the dispute was settled. There is no evidence to show that the arrears were ever paid.
So with the death of the Fourth Marquess a completely new life with great responsibilities opened up for Richard Wallace. He had another 20 years to live yet all this wealth, position, property and prosperity brought him neither happiness nor contentment. Indeed except for the first two or three years life produced for Wallace little but frustration, disappointment, confusion, ferment, turmoil and eventually what appears to be mental unbalance. Further, on most of his ambitions he was thwarted and defeated, either through the designs of others or by his own inherent deficiencies.
But first all went well. He began his new life by stepping on to the world stage and he became the most talked about man in Britain who attained a fame which remained with him for the rest of his life. Naturally Lisburn became very interested in this international figure of renown. It was not in search of fame and honour that Wallace, walled up in Paris, went to the rescue of the 4,000 British subjects locked up with him inside that city but out of pity and compassion. Both the Third and Fourth Marquesses had kept large credit balances in their bank accounts. It was one of their idiosyncrasies for they believed that revolution and destruction would eventually overtake them and their kind as it did the French aristocracy, and that large sums of money easily available might very well enable them to buy themselves out of trouble. Thus Wallace, by a fortunate accident, had ample funds at his disposal and spent freely in providing food for the starving people. Over 500 of the British in Paris were on the verge of starvation when Wallace came to their rescue, and not only that but he helped to relieve the suffering of the French and 250 Americans who also had been caught inside Paris. Further he provided two field ambulances (actually they were more miniature hospitals) and food and coal for the people. Also he quite unintentionally set an example of cool courage and bravery in the face of the enemy. Each day, accompanied by a black and white retriever dog, and with John Murray Scott. his secretary, as his companion, he walked calm and unruffled along the Paris streets ignoring completely the threats to life and limb from the shells which the Germans were pumping into the beleaguered city. Her demeanour and his tranquillity under fire did much to bolster the morale of a surely tried people. As he went from one Mayoral centre to another he left at each place a large packet of banknotes for the relief of the poor of the district.
Paris surrendered to the Germans on 28th January, 1871, and thus relief came to the city. It is estimated that Wallace spent half a million pounds in helping the people through the four month siege. But worse was to follow and here Wallace was powerless. The Germane ordered the French to hold elections so that a Chamber of Deputies could be formed to accept the harsh toms which they intended to impose on the defeated nation. In Paris the reaction was different to the real of the country, for the Commune, as it was called, seized the city and held it against both Germans and French. But the destruction was great before the Communards were finally defeated Such famous buildings as the Tuilleries and the Hotel de Villa were burned to the ground as the national army fought through every street to recapture the city for the nation. Says one writer on the subject:

Powerless, Wallace lived through it all in a state of growing disillusionment and horror. He saw innocent men, women and even children shot down in the streets; three hundred bodies piled an top of one another to the Place de la Madeleine and the city in flames. How many people were killed in the bloody week of repression and in the summary executions that followed has never been established but it was certainly more than 20,000. In the Revolution between 2,500 and 9,000 people had been sent to the guillotine during the Terror and that was spread over a year.
The Commune, which shocked and disgusted the finer instincts of Wallace, settled one thing for him. For the second time in his lifetime the Collection had been in danger through revolution in Paris. He world move it to London and with it himself. Further, when the elections for flee Chamber of Deputies were about to take place Wallace expressed a wish to be considered for election. He thought he was entitled to such an honour in view of his work during the Siege . On a technicality that he was not a Frenchman . he was debarred. This determined him to move to Britain and live there - which was to prove of benefit to Lisburn.
Honours fell fast and thick upon the great Philanthropist. He received the Legion of Honour, an avenue in Paris was named after him and is still so named, and the XI Arrondissement of Paris presented him with a gold medal. In England Queen Victoria conferred on him a baronetcy. Before leaving Paris to live in London (though he did not publicly announce, that fact) he gave a million francs for the relief of the poor and for the erection of drinking fountains, a number of which are still to be seen in the streets of Paris. In all 50 were provided and are known as "Lea Wallaces". Three were erected in Lisburn, two of which are still in position - in the Castle Gardens and alongside the main walk in Wallace Park
It is often asked whom Wallace got the rather unusual idea of fountains as a public gift. It may have been Lord Henry Seymour who suggested it, for to mark his six years residence in Boulogne at the time of 1848 rebellion he presented that town with a fountain.
The movement of the Collection was shrewdly done, and it was surly when it was completed that Paris discovered its loss and there was much criticism and condemnation of Wallace for this deed. When he got to London Wallace offered to exhibit part of the Collection provided a suitable opportunity arose. Them was a movement on foot at the time to hold an exhibition at Bethnal Green, than a slum in the east end of the city. Wallace agreed, that his Collection should be shown in the newly erected museum at Bethnal Green so it was quietly transferred from Paris for this purpose. Something like 25 train wagons were needed to convey the precious works - though not all at once. In all 736 pictures, 227 miniatures, 446 pieces of furniture, sculpture and decorative bronzes, 240 porcelain objects, 141 pieces of majolica and 200 items of jewellery were moved from Paris to Bethnal Green without any suspicions on the part of the Parisians. The greater part of it has remained in London ever since, though a section of it was sold by Murray Scott after Wallace's death, and in 1874 there was a disastrous fire in a store in London in which a further section was destroyed, estimated to be worth at least £120,000. But there was still enough left in Paris to furnish completely two commodious residences in that city and something left over for Bagatelle, as well as what is the Wallace Collection today.
The Exhibition is also notable for the start of the close friendship between Wallace and the Prince and Princess of Wales with whom he was a great favourite. The Prince opened the Exhibition in 1872 and was taken on a tour of it by Wallace, who was accompanied by Lady Wallace and their son Edmond. It was an outstanding success. On the first day 25,000 people visited it and before it closed in April, 1875, over five million saw it. The enormous success of this event only added to the stature and reputation of Richard Wallace.
Now that he was in England there was other serious business to be attended to. The issue of the Lisburn estate - the source of his wealth - had to be settled. Wallace's lawyers having been instructed, a case of simple trespass against Sir Hamilton Seymour came on for hearing at Antrim Assizes in Belfast on Monday, 31st July, 1871. The action was brought by way of an ejectment on title whereby Sir Richard sought to recover from Sir Hamilton a farm of land containing 44 acres, 2 roods and 30 perches at Ballymote in the parish of Glenavy. The case aroused tremendous interest, in view of the eminence of the plaintiff, Sir Richard Wallace. When it became known he would appear in person to give evidence the courthouse on the Crumlin Road was besieged by high society from the city and elsewhere, with the ladies predominating in their finest feathers hoping to see and hear this famous man and perhaps even win a smile from him. The main feature of the proceedings was the appearance in the witness box of the tall, distinguished figure of Wallace. By his bearing, his dignity, his courtesy and his quiet approach he made a distinct and lasting impression. When his reputation and demeanour filtered through to Lisburn not only did the citizenry desire this outstanding man as their landlord but the initial steps were taken to have him as their Member of Parliament.
Wallace's evidence was brief. He gave nothing away about his antecedents. He claimed no relationship of any sort with the late Marquees or any member of the Seymour clan. He said nothing of Agnes Wallace but just explained how he came to live with the family in Paris; how he was accepted as one of them. how he had lived with them for over 40 years; and how he was appointed secretary to the late Marquess first at £500 a year and then at £1,000.
There was no cross-examination. In view of the scandals that arose from the sordid probate action in 1843 over the estate of the reprobate Third Marquees of Hertford when he was exposed as a libertine and a constant consort of prostitutes, there was a gentleman's agreement that there was to be no washing of Seymour dirty linen in public. Indeed, Sir Hamilton did not even give evidence. He left his case to legal argument.
The judge at the hearing directed the jury to find for Sir Hamilton, shrewdly remarking that he did not expect that that would be the end of the case.
Not was it. There were two further hearings in Irish appeal courts. In the first on 10th January, 1872 the court by a majority again found for Sir Hamilton, but at the final appeal court in Ireland on 24th February, 1882 the seven judges divided - four for Wallace and three for Sir Hamilton. Mr. Justice O'Brien, who presided over the original hearing, this time gave his vote for Sir Richard and that was the decisive one.

Lisburn heard the news with joy and rejoicing. This man appealed greatly to the people here and he was never to lose their affection and esteem.
Having won twice out of three times Sir Hamilton Seymour was unlikely to give up the struggle when there was another court to which he could appeal. Accordingly the lawyers prepared themselves for the House of Lords - the one court from which there is no appeal. This was the deciding factor. Just before the hearing Sir Hamilton happened to meet a friend who was an eminent jurist as well as a former Lord Chancellor of England. It is generally accepted that it was Lord Chelmsford. In the course of conversation the celebrated case was touched on just once when the friend quoted this verse from St. Matthew to Sir Hamilton: "Agree with thine adversary quickly whilst thou art in the way with him". The hint was enough. Sir Hamilton instructed his lawyers to begin negotiations with the other side with a view to a settlement. This was done and quickly accomplished; indeed, the terms agreed were said to been offered earlier by Sir Richard. The settlement was that Wallace was to have the Irish estate and Sir Hamilton was to get £400,000 of which a half was to be paid down and the other half in two years' time. During that period he was to receive £8,000 as a consolation. So the issue was settled but at what cost - all because a wealthy peer begrudged the modest fee it would have taken to draw up a codicil in proper legal form.
When the Fifth Marquess found he had not the means to maintain the Sudbourne house and small estate in Suffolk and decided to put it on the market, Wallace offered to top any offer made and as a result paid a handsome price for it - £200,000 but he was anxious to have a country seat in England as befitted a man of his station and wealth. He acquired it in the summer of 1872 and this became his favourite residence. Here each summer after Parliament rose he organized the famous shoots and various other like activities and here, too, he entertained quite frequently his great friend, Edward, Prince of Wales. Only a few years ago the house was demolished and the estate no long exists as an estate.
Thus from the fortune of the Fourth Marquess a sum of at least £600,000 plus their costs in the legal action went to the Seymours whom he so despised because of their treatment of his mother. One wonders what he would have thought about it all.
Two public meetings were held in Lisburn in quick succession. The first was to arrange for a congratulatory address to be presented to Sir Richard on the occasion of his first visit to Lisburn, and the second was held to adopt him as the Conservative/Unionist candidate for the town.
The sitting member was Edward Wingfield Verner, a member of along established Armagh family. He had been given the Lisburn seat when it was a pocket borough in the gift of the Hertfords and he had continued to hold it after a more democratic form of election was introduced. By a happy coincidence, just at this time the family seat in Armagh became vacant and Verner either switched to it or, as was much more likely, was pushed in that direction by leading Lisburn citizens anxious to have Sir Richard as their Member. Incidentally, one of the very early steps which Wallace took once he had settled in London was to get himself proposed for the Carlton Club in London, suggesting that he intended entering public life in England which had been denied to him, unjustly he thought, in Paris.
Wallace now paid his famous initial visit to Lisburn which took place on 14th February, 1873. Having no house in the town, he leased Antrim Castle for his stay in Ulster and it was from there that he travelled by private train to the town. At Brookmount station it was stopped and the party alighted. Here in a marquee in the station yard were gathered the Lisburn Town Commissioners and their ladies to welcome the distinguished visitor and his entourage. The Address of Welcome from the Commissioners was read by Rev. W. D. Pounden, the rector of Lisburn Cathedral, and Sir Richard, in his answer, expressed his pleasure at being in the district.
Then by carriage the remainder of the journey was completed, but at the railway level crossing on the Ballinderry Road (a bridge now spans the rail track) a band of young enthusiasts held up the carriages while they unyoked the horses and hauled them the rest of the way to their destination in Market Square.
The town was en fête, lavishly decorated for the occasion. For days previously the citizens were making preparations so that adequate honour would be done to the worthy visitant. Flags and banners floated from countless windows; firmly constructed arches hearing suitable slogans spanned Wallace's route; business was entirely suspended and everything betokened holiday and jubilation. The most prominent decorative feature was the splendid arch strong across Castle Street - Market Square junction just at the paint where the visiting party was to alight on Lisburn soil for the first time. The arch was profusely decorated with evergreens with here and there flowers of various colours artistically intertwined. On the side facing the Square were the Slogans, "Cead mille failte" and "Wallace for ever"; on the other, "Welcome to Lady Wallace", "Our landlord and our Member" and "Strength to the weak and good to all". Topping the lot was a floral display in which the name of lady Wallace was displayed in snowdrops.
The arch at Longstone Street - the first under which the party would pass - was tastefully finished in greenery and flowers and bore the slogans "We bid you welcome" and "Wallace for ever". The next at the bottom of Bow Street carried the words "The Queen and Constitution", "No Surrender" and "Love Makes Labour light". Arches had also been erect at Bridge Street and in Seymour Street. Much in evidence was the Lisburn Amateur Brass Band which had led the procession into the town. After he had alighted and had been greeted by the civic dignitaries and the citizens packed like sardines in the Market Square, Sir Richard walked up Castle Street through cheering, happy people to the Estate Office (now the Town Hall) where the new agent, Mr. Frederick Capron, a London solicitor, received his new employer. He had taken over from Walter Stannus, and thus had ended almost 75 years of Stannus rule in the Hertford estate, first by Dean Stannus and then by his son. It was estimated that between 15,000 and 20,000 people crowded into the town that day. The primary object of the visit was for the nomination of Sir Richard as candidate for the town at Westminster and the next day he was duly proposed and seconded. No other candidate dared to oppose the popular choice and he was returned unopposed.
Sir Richard spent a number of days in Lisburn and on his estate generally. On the Sunday he came from Antrim to worship in Lisburn Cathedral and it is said that the largest congregation ever seen up to that time in that ancient building crammed every corner. And in accordance with his practice, when the collection was taken up he contributed a gold sovereign as did lady Wallace, which, too, created something of a sensation because that was more money than a number of the parishioners that Sunday morning received as a week's wages.
Sir Richard returned the town's hospitality in lavish manner. Anyone in Lisburn who was anyone was invited to lunch at Antrim Castle a few days later. A private train from Lisburn was laid on to take the party to their destination and bring them home again. That was a memorable day especially for the ladies whose bonnets and plumage generally was of the very best, each of course vieing with the other in rivalry. Lisburn has never seen anything like this visit; it is destined never to know anything exactly like it again.
Sir Richard entered the House of Commons as Member for Lisburn on Thursday, 27th February, 1873. He was returned unopposed at the 1874 General Election and again in 1880, but declined an heath grounds to serve beyond 1884.

He now had everything he wanted and should have been a contented man. In the short space of two years he had risen from comparative obscurity as a private secretary to become one of the most famous men in the Kingdom, a landed proprietor beloved by his tenants, a Member of Parliament and the owner of the finest private art collection in the world. It was a striking catalogue of progress and advancement in such a short time. Yet all was not well with him. His problems arose from within rather than from without. It was in the family that he first began to taste the first bitter waters of defeat and frustration. First there was lady Wallace. She was most unhappy in England and made everyone around her unhappy, too. She did not like London, its society and English life generally and she preferred the life she had led for so many years in Paris. Though she was supposed to be hostess for her husband in all the entertaining he had to do, more often than not she cried off on the plea of illness and refused to attend the various functions which he had arranged. She did not prove for a man like him in a high public position the helpmeet she should have been.
Sir Richard's hopes centred on his son Edmond Wallace. He hoped that Edmond would found an English family by marrying into an English titled family, preferably a branch of the Seymours, and so establish a family rooted and grounded in English soil and English ways that he would put behind him his French outlook and influence as the heir to English estates and a fortune. His plans also included the son succeeding as M.P. for Lisburn and with this object in view and also to redeem the promise made in 1845 by the Fourth Marquees to his tenantry he decided to build a house in Lisburn. It cost him £20,000 and was completed towards the end of the 'seventies. By that time, however, Edmond had made up his own mind what he wanted to do with his life and Lisburn played no part in it. Thus the house became something of a white elephant, an empty monument to one man's vain dreams of glory. It was seldom lived in by any of them and only Sir Richard himself very occasionally visited it.
Edmond Wallace was 24 when his parents married. In France this rendered him legitimate; in England it did not. Perhaps this blot had something to do with his subsequent actions. He was a distinguished soldier who had fought gallantly in the Franco-German war and was made a Chevalier of the Legion of Honour. After the war he resigned his commission in the French Army and accompanied his parents to England. He was with them for the famous Lisburn visit and accompanied them on their various outings, including worship in Lisburn Cathedral on that particular Sunday. Under pressure from his father and mother he became a British citizen though this does not seem to have deprived him of French nationality.
For a time he played along with his father's ideas and he had a handsome allowance from the family wealth. But in a short time this kind of life palled on Edmond. He was essentially a Frenchman and he realized that he would never wish to be an English landowner and M.P. He preferred the Bohemian type of life for which Paris was famous. From time to time he slipped across to Paris for a break and more and more he spent his time there rather than with his parents. There were five good reasons for this - a woman and four children. She is a shadowy figure in our story of whom very little is known except that she was of the theatre but she must have loved Edmond. They lived together as man and wife and she bore him four children. No doubt she hoped that one day her association with him would be regularised, but it never happened. Like his father before him, Edmond would not run the risk of the wrath of his own father by marrying someone who would not please the Lisburn squire, and possibly like Sir Richard he put it on the long finger to be accomplished after his father's death. He did, however, finally come down on the side of Paris and he decided to live there with his family. It was in 1879 when the Prince of Wales was visiting Sudbourne for a Wallace shoot that the first sign of the break between father and son was noticed. Edmond, who was always in attendance on these occasions, was absent. He was not seen at one again. Ironically, it was about the time the house in Castle Street was ready for occupation.
Things had come to a head when Edmond told his father of his intention to return to Paris to live. Wallace lost his temper with his son and threatened, blustered, cajoled and pleaded, but all to no avail. Edmond replied with vigour for he was just as stubborn as his mother, "My honour and affection forbid me to desert the mother of my children." Wallace in an angry outburst exclaimed, 'Mon Dieu, est-ce que nou n'aurons jamais fini de batards?" ("My heavens, is there no end to bastards in this family?") Apart from the insult this must have been to Edmond, then is no better illustration of the pot calling the kettle black. Here Wallace was condemning his son for doing exactly whet he had done. They became estranged. Wallace cut the allowance he was making to him. They were never destined to be reconciled. Edmond went to live in Paris and his parents never saw him again.
Before the final break, however, Sir Richard played what he hoped was his winning card. The 1874 General Election had brought to power for the first time since 1845 a Tory administration with a working majority. It was headed by Benjamin Disraeli afterwards the Earl of Beaconsfield. He was a firm friend of Wallaces who in turn was a warm supporter of the Prime Minister. He approached Disraeli with the suggestion that he should seek the approval of the Queen to his baronetcy descending to his son although illegitimate in English law. Precedent was provided for such a development. The patent of the baronetcy issued on 28th August, 1871 contained the phrase, "and to heirs male of his body lawfully begotten". This ruled out Edmond, which was probably another reason why he wanted to quit English life where he would always be under the bar sinister. Disraeli agreed to petition the Queen, ever ready to help a friend. He quoted the precedent for the step he proposed and stressed the desirability of keeping this family with its great collection, wealth and estates in England. But the Queen, with her strict sense of morality, would not wear it. She dismissed summarily the argument about the family's land of domicile for she could never appreciate why anyone would want to live anywhere but in England. She tersely remarked about the danger of precedents and added that it would not be desirable to create a new baronetcy with remainder to Edmond Richard Wallace.

This was a bitter blow to Wallace and from this time onwards life began to sour for him. It is interesting to note that this request was a closely goaded secret until very recently which in a way reveals Wallace's feelings in the matter. There is no inference to it in Disraeli's mass of papers at his old home, Hughenden Manor in Buckinghamshire nor in his official biography, nor is it mentioned that I have been able to find in anything that has been published about or by Queen Victoria.
Sir Richard's visits to Lisburn became less frequent and he was last here in 1880 when he came forward for re-election. As a Parliamentarian he made little impression on the House of Commons. Essentially a shy man in public he seldom made speeches, and you would have some hard searching to do to find any record in Hansard of his contributions to Parliamentary debate. He himself summed up the position in an election speech made in the Assembly Rooms at hit adoption meeting on 29th Much, 1880. These are his words:
"I have devoted my entire time to my parliamentary duties during the past six years. You might consider me rather silent while in Parliament but really there were so many talkers there that I did not think it was necessary for me to say much. I have however attended to my duties very closely and there were few divisions I have missed. "
In the new Parliament when the Tories again found themselves in opposition he was a silent member but by this time the depressions and the frustrations of his life which were to destroy him were beginning to get a grip. I have, however, unearthed from Hansard what was the last speech he was fated to make in Parliament. The liberal Government had introduced a Distribution of Seats Bill, the aim of which was to divide the Parliamentary seats more evenly. The Bill proposed to remove Lisburn's right to its own M.P., a privilege granted to the town in 1662 by Charles II, and to merge the town in a new constituency to be called South Antrim. Wallace urged the Commons to retain the name Lisburn for the constituency in view of the town's historic rights. Here is what Hansard records him as saying:
"Sir Richard Wallace moved to substitute the name of Lisburn as the designation of the South Antrim Division. He said that Lisburn was an ancient borough and the most important town in the county. It was the cradle of the cambric and damask linen trades in the North of Ireland. It had for centuries returned Members to Parliament and in his opinion and in that of the inhabitants of the Division it was entitled to glue its name to the Southern Division of the County of Antrim and not to be consigned to political oblivion. "
Sir Richard's amendment was opposed by the Government and was lost by 101 votes to 32. South Antrim the constituency has remained ever since. With the end of Lisburn as a separate division also concluded Sir Richard's career in Parliament. He declined nomination for South Antrim.
Now the clouds began gathering round the head of this distinguished man whose interest in life was dealt a crushing blow in 1887. At the early age of 47 Edmond died, still totally estranged from his father and still unmarried. No doubt Sir Richard was hoping for some modus vivendi which would re-unite him with his son and had not anticipated such a devastating development as this. Equally Edmond was a proud man and refused to make the first move. Strange to say Lady Wallace was very little affected by his death. Her stubbornness and insensitivity remained unaltered by the tragic loss. As the years passed she replaced Edmond in her affections with Murray Scott, the Secretary, ever ready to do her biding without question until she actually looked upon him as an adopted son. She was to demonstrate her feeling for this man in a striking way in her last will and testament.
Edmond to the last was Bohemian in character and outlook and he demonstrated it by stipulating that he was not to be buried in the elegant Hertford tomb in the Pere Lachaise cemetery where his father and mother were subsequently to find their last resting place but in the simple grave nearby where lay the remains of the Marquise de Chevigne, the eldest child of the Third Marquess of Hertford and Mie-Mie and who was almost certainly born out of wedlock and may even have been the reason for the clandestine marriage of her parents. Christened Frances Maria she married the Marquis de Chevigne in April, 1821 at the age of 22 and six months later was dead.
It was now downhill all the way for Richard Wallace. He took himself to Paris and began living at Bagatelle. He followed the example of the Fourth Marquis and became a recluse, refusing to see people and holding communication with none if he could avoid it. His wife and Murray Scott remained in London though Scott did make visits to Paris to attend to Sir Richard's wants. They were not very pleasant visits. Wallace's temper had not improved with his isolation and the bulk of it fell upon the shoulders of the tall secretary who took it all without riposte.

Even his interest in the Collection began to fade. He just could not be bothered. True he did try about six months before his death to arrange some scheme whereby the Collection would pass in its entirety to the British nation and his solicitor and some others visited him at Bagatelle in connection with that. But his enthusiasm was so low that he had to abandon the idea. Thus to that extent he betrayed the trust which the Fourth Marquess had reposed in him. He excused himself by saying that his wife knew his wishes in regard to these matters.
The end came suddenly on 20th July, 1890 in the same room in which 20 years earlier Lord Hertford himself had died. No one has slept in that room since.
There are still in Lisburn some of the improvements provided by Sir Richard. There is, for instance, the Assembly Rooms converted at a coat of £2,000 from the old market house; the Union bridge at the foot of Bridge Street on which he spent £200 to improve and strengthen it; the Lisburn Cathedral parochial hall which he caused to be erected as the Cathedral school; the chancel of the Cathedral to which he and Lady Wallace both contributed generously; the old Courthouse at the foot of Railway Street which was demolished only recently and which cost Sir Richard £4,000; the site for the Temperance Institute in Railway Street; £2,000 for improving the town's water supply and enlarging its reservoir; and of course what was originally named the Intermediate and University School which cost £1,400 plus the site which was provided free of all charges, the school now named Wallace High School in his memory.
Perhaps his best known gift to the town is the Wallace Park which he converted from a meadow to its present form at a coat of £4,000 the only change being in the removal of the stout railings with which it was surrounded, the metal in which was needed for the war effort in the Second World War. The ornate gates went too for the same purpose. I only mentioned the Park here to scotch a persistent story which ever and anon raises its head. It began with an article in the Irish Times in 1926 by E. V. C. in which he claimed that Sic Richard had offered his Collection of pictures to Lisburn to be housed in the Castle Street house and that the city fathers of the day refused it because they felt they could not afford the maintenance of such a great gift. "So this wonderful treasure house was lost to Ireland", explained the writer.
All of this was just a figment of E.V.C.'s imagination. It contains not one word of truth. No such offer was ever made to the Lisburn Town Commissioners by Sir Richard or anyone else and I have studied the minutes of the old Town Commissioners in which such an offer, if it were made, would be recorded. As we have seen, Sir Richard did absolutely nothing about the Collection; it was his wife who made the dispositions in regard to it. She certainly never had Lisburn in mind.
It is possible though that the writer is mixing up the Collection and the park which when Sir Richard was ready to present it to the town was refused by the Commissioners. They would accept that gift only if they had control of the cricket ground in the centre. They even held a plebiscite of the ratepayers on the subject and got an overwhelming vote of confidence for their policy. But wiser counsels prevailed and the local authority ultimately accepted the gift without control of the cricket field which remained with the club where it had been since 1836. This was distinctly marked at the time with a stone at each of the four comers on which are carved the letters "RW ". Some argue that these mean "Richard Wallace"; others "Reserved Within". The Town Commissioners allowed no fence round the cricket ground; it only came many years later.
In any assessment of Sir Richard and Lady Wallace what does one make of this bizarre and extraordinary couple? He has been described by Lady Wolsey as charming, generous, yet impetuous; she as harmless and dowdy, refusing to speak a word of English. Henry Reeve, a painter, wrote of Wallace, "The very type of gentleman of the highest breeding-rather stern, melancholy, not at all humorous and incapable of vulgarity or pretence." Whatever their achievements and their fame what conclusion can one come to of their treatment of their grand children? Wallace wanted to found an English family as part of the titled, landed proprietors of Britain. That was not to be largely because his son (like himself before him) was loyal to the woman he loved who was the mother of his children. Yet here on his very doorstep was the ready-made family had he but the vision to appreciate it. Instead he and his wife refused to acknowledge that they existed. One wanders why.
And the bitter tragedy of this sad tale is this - this spurned family was to prove worthy of their forebearers by their valour, their bravery and their industry and were to add lustre and glory to the name of Wallace which had won those laurels in other ages. The eldest, Georges Richard was born in Paris in 1872 just as his grandfather and father were leaving that city to live in London. He was a captain in the 22nd Dragoons at the outbreak of the Great War throughout which he served. He rose to the rank of General of the French Army, was mentioned no less than nine times in dispatches for conspicuous gallantry, was wounded five times, was made a Commander of the Legion of Honour and was awarded the Croix de Guerre. Henry Richard, the second son, also distinguished himself in action on various fronts and was made a Chevalier of the Legion of Honour. The highest accolade was reserved for the youngest son, named after his father Edmond Richard Wallace, born in 1876. He was a lieutenant in the reserves when war broke out and on 28th February, 1915 at Vauquois on the Meuse his regiment was decimated and he was killed at point blank range by a bullet in the head. In the margin of his death certificate are the immortal words "Died for France". The fourth child was a girl, Georgette Wallace, born in 1878. Gifted with a fine contralto voice, she studied singing and made a career for herself in French opera in the years between the wars. She was in constant demand by leading conductors of those days. The present-day members of the Wallace family are the three daughters of General Wallace one of whom, Madam Jacques Pol-Roger, is the wife of the champagne king. There is no male Wallace today so the French branch of this family has died out.
This then was the family which Sir Richard and lady Wallace spurned because they could not recognise the wood for the trees. It is an interesting thought that had things fumed out differently this family might well have spent their early years in that empty house in Castle Street. And does anyone know of a better place to absorb a French family into the life of the community than the town of Lisburn and its people with their record and tradition of embracing within its citizenship the hundreds of French exiles known as the Huguenots?