BARBOUR THREADS STAFF PREPARE FOR CLOSURE
200 years of history draws to a close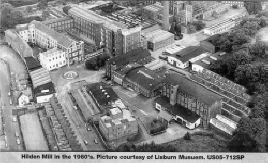 HILDEN Mill has a long and prestigious history in Lisburn and as the end of an era draws near many local people will be recalling their own memories of Barbour Threads.
In 1784 John Barbour, who hailed from Scotland, established a linen thread works in Lisburn.
At the same time his son, William, bought a derelict bleach green at Hilden and set up business.
Later, the thread works were transferred to Hilden and as early as 1817 it was employing 122 workers.
In 1823 William Barbour bought a former bleach mill at Hilden and built a water-powered twisting mill.
The Linen Thread Company was founded 1898 and it quickly became a large international company.
In fact it became the largest linen thread mill in the world, giving Lisburn a richly deserved international reputation.
By 1914 it employed about 2,000 people and until recently some 300 workers were still employed there, with the work-
force dropping to just 85 in recent years.
Among the company's varied products were nets, which could be made into snares and fishing nets.
The company built a model village for its workforce in Hilden, which consisted of 350 houses, two schools, a community hall, children's playground and village sports ground.
Lisburn became the envy of the world thanks to its Linen and Thread industry and now the last remnant of that history is to close its doors for the last time.
Barbour workers `let down and disappointed'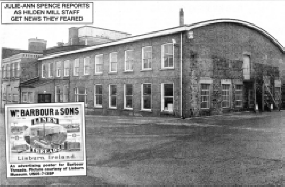 STAFF at Coats Barbour got the news they had feared for some time last Friday when it was con-firmed the company is to shut down its operation at Hilden.
The employees, some of whom have worked at the factory for over forty years, said they were 'disgusted' at the decision and felt let down by the company.
The factory's senior shop steward, Jackie Ross, said the staff were devastated.
Speaking after the start of the consultation process between staff and Coats Barbour, Mr Ross said: "They call it restructuring but it is a total closure.
"We were given a business plan to turn the company around in two years but we weren't even given that opportunity.
"This year we made a small profit and to our mind, if we had another year, we could have made this a very successful business.
"We thought we had a promise two years ago about the future, but it wasn't worth the paper it was writ-ten on," said a very angry Mr Ross.
While no timescale for the closure has yet been announced, Mr Ross said the company envisage the first job losses in April, with the last of the workforce being made redundant by the end of June.
"They are taking away the Barbour name," said Mr Ross. "They are taking away the heritage from the people of Lisburn.
"To them 85 is just a faceless number but they are not faceless to us. Those 85 workers are families, couples, brothers, sisters, fathers and sons.
"Workers at Barbour feel let down, disappointed and betrayed."
The Hilden site manufactures speciality threads for the automotive, upholstery and bedding industries as well as for other non-apparel applications and has been a feature in Lisburn for over two centuries.
Announcing the start of a consultation process between the company, staff and Union representatives, Coats said the closure was due to the migration of these industries and their demand for local supply and lower prices, in particular from the automotive industry.
They said that made it essential to move operations to be close to the customer base and to face the growing challenges of global competitiveness.
"The job losses are regrettable, particularly given the efforts of our employees in improving the operations at Hilden," commented Sherwell Fernando, Coats (UK) Ltd managing director.
"We have, however, been compelled to restructure our business because of the industries we serve. The declining local market and the demand for lower costs from our customers makes it inevitable that we cannot continue to operate at Hilden and remain competitively serving our customer needs.
"We have to reshape our business to support our customers. We must meet their demands for quick, responsive supply whilst facing the challenges of a highly competitive global market. Doing nothing, in the face of these industry changes, is not an option."
Dismay at latest blow to the textile industry
POLITICIANS in Lisburn have been united in their dismay at the job losses. Lagan Valley MP Jeffrey Donaldson expressed his 'deep regret' at the decision.
"The Barbour Threads factory has a special place in the industrial heritage of Lagan Valley. playing a significant part in establishing our area as a centre of linen and textile production" he said.
"Once again, we see the severe difficulties that our Northern Ireland based textile companies are up against.
"I and my colleagues on Lisburn City Council have been fighting hard and constantly with some notable success to attract new investment to our area and the former employees of Barbour Threads can be assured that we will increase our efforts to regenerate our city and attempt to create new employment opportunities that they can avail of."
MLA Edwin Poots said: "It has been evident for some time that the factory was being wound down with the intention of moving production to a lower cost economy and the skills based developed at Barbour has been transferred elsewhere along with its proud name that is a worldwide brand in the industry.
"For many individuals who are facing redundancy it brings to an end a lifetime of employment spent exclusively at Barbour. The reality for some will be that they will not be employed again elsewhere.
"Others will face the upheaval of seeking employment elsewhere or potentially establishing their own business, we will be working with Invest NI, Training and Employment Agency and the local Council to address the range of needs."
Councillor Jenny Palmer said the closure of Hilden Mill was "a very sad day for the people of Lisburn city."
She also said she believed that nearly every household in Lisburn would have been touched by the closure, as their ancestors have been involved in the linen trade for centuries. Her own grandmother, mother and uncle worked in Hilden Mill and her grandfather was employed in the Island mill.
"I am particularly annoyed that the skills of the workforce were used over the years to train Eastern Europeans and ultimately saw the downfall of such a prestigious mill," said Mrs Palmer. "The workforce of Hilden Mill are very loyal and hardworking and this is how they have been repaid."
Lagan Valley assembly member, Billy Bell, also voiced his disappointment.
"Northern Ireland's textiles industry continues to suffer from the destabilising affects of globalisation. Moves must be immediately made to diversify the economy, particularly in areas where the textile industry has been so prevalent" he said.
"I trust the government and Invest NI will step in and provide the necessary support and retraining opportunities for those affected."
MLA Patricia Lewsley said she had understood the management of the factory had given assurances that if the branch made an annual profit then the jobs would not be under threat.
"This year the factory output guaranteed a profit but still the company announces this closure" she said.
"These losses will not just affect individuals but in many cases couples and families who have been employed together at the factory."
Councillor Paul Porter, who has worked closely with Coats Barbour on
behalf of (he staff, said the closure was a sad day for Lisburn city.
"Many families, including my own, will be effected by this closure" he said.
"Many staff have been working there since they left school and there are now many challenges ahead of them."
Councillor Andrew Ewing has also expressed his disappointment at the announcement. "I have every sympathy for the remaining employees who will regrettably loss their jobs," said Mr Ewing.
"I was obviously sad to hear that this is the end of manufacturing at the Barbour Threads factory, which made Lisburn renowned around the world."
03/02/2006