FORMER MP DIES SUDDENLY ON GOLF COURSE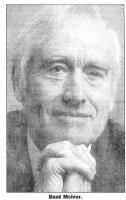 BASIL McIVOR REPRESENTED LARKFIELD AT STORMONT
THE former Unionist MP for the Larkfield Stormont constituency Basil McIvor died suddenly last Friday.
Mr. Mclvor who represented the area from 1969 to 1972 collapsed and died while playing golf at Ballynahinch.
His funeral service was held at Knock Methodist Church on Monday and he is survived by his wife Dr. Jill McIvor and their three children Jonathan, Timothy and Jane.
Mr. McIvor was born at Pettigo, Co. Fermanagh in 1928, the son of well-known Methodist Minister the late Rev. Frederick McIvor.
He attended Methodist College and graduated from Queen's University Belfast with a law degree.
He pursued a legal career before being called to the Northern Ireland Bar in 1950.
Mr. McIvor came to political prominence after being elected to the Larkfield constituency. Initially he was a firm supporter of Captain Terence O'Neill, then Prime Minister of Northern Ireland, and supported his attempts to address the concerns of the Civil Rights Movement by introducing a package of reforms.
After Mr. O'Neill's decision to resign in April 1969 Mr. McIvor continued to call for the Unionist leadership to seek to maintain this approach and late in 1971 entered the Northern Ireland cabinet as Minister of Community Relations (October 1971 - March 1972).
After the imposition of direct rule in March 1972 he chose to refrain from attacking William Whitelaw, then Secretary of State for Northern Ireland, and went on to support the line taken by Brian Faulkner, then leader of the Ulster Unionist Party.
As a result he accompanied Mr. Faulkner at the talks that were to lead to the establishment of a power-sharing Executive for Northern Ireland alongside the 1973 Sunningdale Agreement.
Elected to the Northern Ireland Assembly in June 1973 for the constituency of South Belfast, he was appointed to the Executive (January-May 1974) and was to serve as Head of the Department of Education.
His plans, however, to introduce a scheme whereby Protestant and Catholic pupils would be educated in the same schools failed to materialise with the collapse of the Executive in May 1974.
This marked the end of his active involvement in politics and he was appointed a Resident Magistrate (1976-93).
However he maintained an interest in educational matters and in 1981 was appointed Chairman of Lagan College, the first integrated school in Northern Ireland.
He served as President of the school until his death and a spokesperson paid a warm tribute to the former politician, describing him as 'inspirational'.
Mr. McIvor was also Patron of the Northern Ireland Council for Integrated Education and formerly served on the Board of Governors at Campbell College. When devolution returned after the signing of the Good Friday Agreement he wrote to Sinn Fein's Martin McGuinness, Education Minister in the new Executive wishing him well and inviting him to visit the College.
After leaving politics he sat as a Resident Magistrate for many years, presiding at courts in Lisburn on a number of occasions.
He was involved with the Salvation Army along with his wife and was Chairman of the Fold Housing Association and War on Want.
Mr. McIvor was one of those who lobbied Queens Senate to reconsider their decision to close the university's Classics Department and was awarded the OBE in 1990 in recognition of his services to the community.
His autobiography 'Hope Deferred - Experiences of an Irish Unionist' was published by Blackstaff Press in 1998.
Davis saddened by news of death
LISBURN Councillor and Lagan Valley MLA Ivan Davis said he learned of Basil McIvor's sudden death with 'deep regret and great sadness'.
He described Mr. McIvor as 'a very sincere person' who was 'totally committed' to the projects with which he was involved.
"I remember the important role Basil played when I was a member of Lisnagarvey Housing Association," he added.
"He had tremendous vision and his passing is a great loss to the entire community.
"I express my sincere sympathy to his wife Jill and the entire family circle."
12/11/2004