Valerie Dale of Stroke Association of NI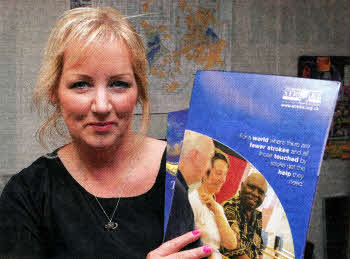 Valerie Dale of Stroke Association of NI
VALERIE Dale works as an Information and Advice Support Coordinator for The Stroke Association NI. She grew up in Moira and decided to train as a nurse when her mother had two strokes by the age of 37. When a role became available with The Stroke Association NI Valerie knew it was meant for her and successfully applied. She is married with two boys, Nathan, 10successfullyaron, 17 months.
The service which Valerie and her colleagues carry out in Northern Ireland is vital. The Stroke Association is the only UK charity solely concerned with helping everyone affected by stroke.
In the last 10 years, The Stroke Association has invested more than £21 million in research and is dedicated to further fund research into understanding, treating and preventing stroke. It also runs services across Northern Ireland and the UK providing practical support and information to thousands of stroke survivors and their families.
Every morning I get up and get myself and the children ready before dropping them off to school and to the childminder. My daily role involves providing necessary information, advice and support to not only stroke survivors, but also their families and carers. This can be at their home or in hospital. One day a week I am in the Lisburn area and the rest are spent all over the Southern Trust area.
I catch up on phone calls and messages and then head out on the road. Stroke is the leading cause of severe disability and the third biggest killer in the UK. The impact of stroke on the life of a survivor, their family and loved ones can be shattering. Half of all stroke survivors are left with a long-term disability, experiencing a range of physical, communicative, cognitive and psychological problems.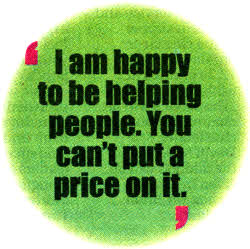 I receive referrals from GP's, health professionals and family members to go and assess individuals who have had a stroke. I will visit them, and to a background assessment and identify their needs. I will then try to set goals for the individual and this will help them try to get their life back again. Helping people leave the house or start driving again are examples of what I do. I will also help organise modifications to people's cars or encourage them to try and do the activities they used to do before they took ill. I will also signpost them to social workers and other agencies and give them advice on benefits available. I also help people sign up to courses once they have made progress in their recovery as not everyone can return to do the same kind of job they did before. Once they achieve these goals I will help set more and offer the individual the support and advice they may need. I also will introduce them to stroke survivors who have got their life back on track. This gives them hope. This Buddy scheme is really popular and a success. Stroke survivors meeting others who have had a stroke but are further on with their recovery gives people a lot of encouragement. There is a fantastic team of volunteers on board but we are always looking for more. The work of volunteers many of whom have had a stroke themselves is just invaluable. With my mother having strokes I know how the family feels but only someone who has had a stroke can really relate to another person who has had a stroke.
I just love my job. I know I make a difference and I am happy to be helping people. You can't put a price on it. For more information about the work
Ulster Star
10/02/2012