Family expresses gratitude for donations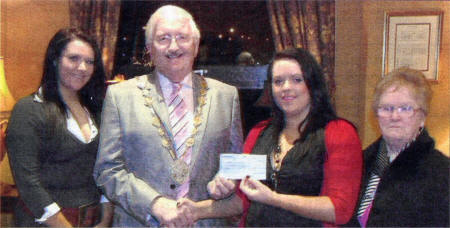 The family of the well known cyclist the late David McCall, have presented the Mayor CIIr. Ronnie Crawford with a cheque for £1,000 to support Diabetes UK in memory of David. Included in the picture with the Mayor are David's daughters Emma and Carolyn McCall and his mother Mrs Agnes McCall.
THE McCall family have thanked those who kindly donated in lieu of flowers for David James McCall, who was tragically killed in August 2008.
A total of £2,095 was raised and a cheque for £1,000 was presented to the Mayor of Lisburn, Councillor Ronnie Crawford last week for Diabetes UK.
The remainder is going to the David McCall Cycling Foundation this week.
The family have apologised for the delay in acknowledging donations, however, the fund was only closed recently and they have just received the names of those who contributed.
Ulster Star
09/01/2009